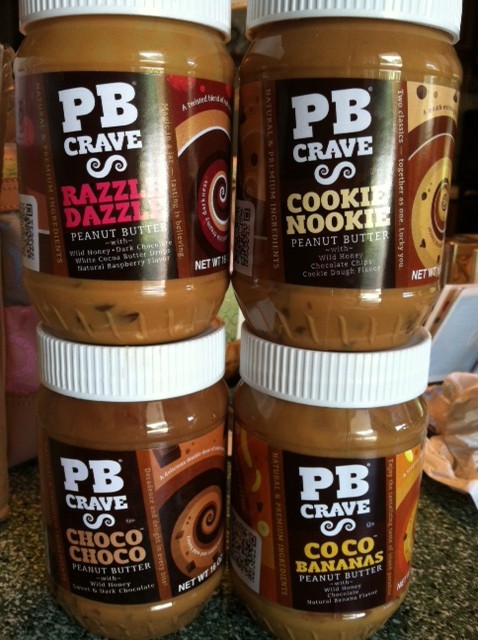 RE-review! I reviewed one of the PB Crave flavors recently, and thought it was okay. Little did I know that the peanut butters over at PB Crave were remade and I had a batch that was prior to the remake! Luckily, the nice people over at PB Crave offered to let me try their products for free, and being the peanut butter lover I am, I happily obliged 🙂
Once I got the package….I admit I tried all 4 on the spot. (Couldn't help myself). 4 spoons and 4 forks later (a friend of mine tried it with me!) I happily tasted each and every one of the PB Crave Peanut butters. What I liked is that each jar of peanut butter was VERY creamy, and had little oil separation (if any). Just  a quick stir and voila! Ready to eat, and not too messy. Don't get me wrong- I LOVE natural peanut butters because they don't have hydrogenated oils, but I hate that sometimes it takes a good 10 minutes to stir a jar of peanut butter -.-
Anyway-
First up- COOKIE NOOKIE! How could I not try this one first…it had the word cookie in it 😉
This peanut butter has "wild honey, chocolate chips, [and] cookie dough flavor" according to the jar. Upon first taste….I like it 🙂
It was sweet, but not too sweet, and I could definitely taste the cookie flavor. It wasn't super salty like the last batch I tried, and really quite good. I noticed some chocolate chips at the bottom of the jar, but that was really it. Not much but a few specs at the bottom. It had a nice vanilla flavor in the beginning, which seemed to dissipate as time went on. I also noticed I needed a glass of water, or milk, with this peanut butter. Sticky! However,  very good. This one gets 4 stars.
Next, Razzle Dazzle. This one had "wild honey, dark chocolate, white cocoa butter drops, [and] natural raspberry flavor" according to the front of the jar. I could CERTAINLY smell the raspberry upon opening the jar. I noticed that the flavors were mild. A mild white chocolate flavor and a mild raspberry flavor, neither overpowering or too sweet. My friend said she thought the raspberry flavor tasted a bit artificial. However, it was pretty good, and my friend did agree with me that the "aftertaste was pleasant". This one also gets 4 stars
Next up, Choco Choco. This one had "wild honey [and] sweet & dark chocolate" in it, according to the label. I thought this one was like a dark chocolate Reeses candy, that wasn't as sweet and had more peanut butter in it. In other words…I liked it =D . It had that sweet and salty thing going on, and was super creamy. I did notice that the chocolate flavor was mild, and a bit bitter. I almost wish they used just milk chocolate and made it a bit sweeter, but otherwise it was good. 4 stars
Lastly, the Coco Banana. This one had "wild honey, chocolate, [and] natural banana flavor", according to the label. The flavor of the banana was relatively mild. It was salty and a bit sweet, but nothing overpowering at all. I didn't really taste the chocolate part, which I found a little disappointing. This one was good, but I'd rather smear it on am actual banana rather than eat it from the jar. 3 stars
Overall, some yummy peanut butters. I wish the flavors were a bit stronger, such as stronger raspberry or banana or chocolate flavors, as it seems the peanut butter masked a bit of the flavors in each jar. However, I like that the sugar content of each peanut butter was relatively low, as was the sodium. So, I definitely recommend trying these!
Which one would you try if you had the option to?
Here is the nutrition for Cookie Nookie, although most jars are relatively the same (give or take).