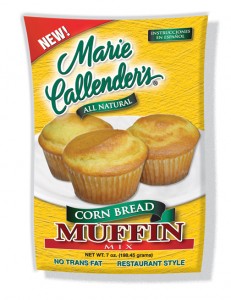 Along with the tasty Biscuit Mix I was sent to try from Marie Callender's, I was also given the All Natural Corn  Bread Muffin Mix in the 7oz variety.
Now I was excited for these. I LOOOVEE corn bread, and really rarely get to eat it! I love how it's moist and super tasty with a little smear of butter. Delicious.
So, I preheated my oven to 375 degrees Fahrenheit, and starting making this mix. I decided to go for the swaps suggested on the back of the mix "to make a healthier version", and switched 1/4 cup applesauce for 1/4 cup oil, 1/4 cup skim milk for 1/4 cup milk, and 2 egg whites for 1 whole egg, and mixed them together. Then I added the corn bread muffin mix to the bowl, which mixed very easily. Hardly any lumps whatsoever!
Then I sprayed my muffin tin with some noncook spray and added the muffin mix. I cooked it for about 16 or 17 minutes, and let it cool slightly.
These muffins were moist and soft, which was a plus for me. They were mildly sweet as well. I do prefer my cornbread to be a bit sweeter, and I sort of wish they used honey over sugar since I prefer a honey taste as well. They also had a bit of a tang to them, that I couldn't quite put my finger on what it was. Not super noticeable, but it had a bit of a tangy aftertaste. By themselves, I would assign this to be  a 3 star rating, but after I put a little butter on one, I liked it more, which would bring these muffins up to a 3 1/2 star rating. I did like that they were cute medium sized muffins, but didn't like that they had 0 grams of fiber in the mix, and that the first ingredient was sugar.
Do you like cornbread? What's your favorite way to eat it? Or do you have a favorite brand? *If you'd like to answer, please leave a comment below!*