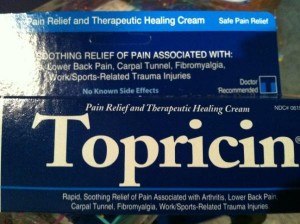 Alright! Not a food (obviously) but something new for me to try. Topricin, a "Pain Relief & Healing Cream". At first when I offered to review this product (free for me, given to me by the company) I thought…hmm…do I even really have that much pain.
Uh…YES. I'm just "used" to it, so it's not that prevalent anymore! Hysterical, I know, and borderline ridiculous.
They gave me a few to try, also including a Kids version for pain and things like bug bites. Today's review is of the Pain Relief & Therapeutic Healing Cream, and the Foot Therapy Cream.
I tried the Foot Therapy Cream first.
I have on and off achilles heel pain, as well as very high arches which leads to pain if I run too much/don't wear supportive shoes, or am just on my feet all day. Which brings me to…I am mostly on my feet all day long! So I thought this one would be perfect.
I put it on my feet and lower calves, and noticed it was creamy and non greasy. It absorbed fairly well and had no smell to it, which I really liked. Let's be honest…some foot creams are STINKY! But this one didn't have a scent at all. I also liked that this cream was "safe for diabetics", as listed on the box.
The next morning, my feet felt refreshed. I felt a little less achy and I think the cream helped take some of the swelling that can occur.
For this one… 3.5 stars.
Then, I tried the Therapeutic Healing Cream by Topricin. I applied it to my neck/upper trapezius muscles, as I carry a heavy back pack for most of the day and I was feeling sore and achy there. I noticed that the first application applied easily, had no smell and was creamy. THe 2nd application left a bit of residue, as I guess my skin was already saturated with the cream. The pain did subside, but not completely. It did help, don't get me wrong, but I noticed in an hour or so the pain was back.
For this one…3 stars.
Overall, I like the creams! I think they help with mild pain and I liked how the foot cream worked. I recommend you try them if you experience mild pain, or are active and always on the move like me!