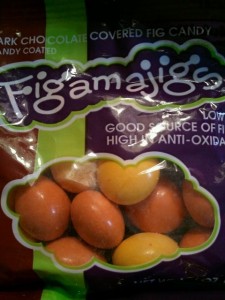 What's Easter without a little chocolate? (Or, if you don't celebrate Easter, what's ANY day without a little chocolate? 😛 )
In light of the holiday, I felt this review was appropriate.  A healthier way to enjoy chocolate- why? Because there is FRUIT – FIGS – in this chocolate. But- it's really good! I gave up chocolate for Lent (NOT doing that again. I didn't realize how much chocolatey things I consumed on a daily basis!), so it is finally welcome back with open arms into my life. HURRAY!
Enter Figamajigs Candy Coated Dark Chocolate Covered Fig Candy. They were pretty big, probably twice the size of a normal M&M, and came in yellow and orange. They were pretty sweet, with a crunchy coating on the outside, followed by a thin layer of sweet chocolate, and then a fig "ball" on the inside. When eaten as a whole, rather than taking  a bite, I really didn't notice the fig too much. Only when I let the candy dissolve slowly in my mouth did I detect the fig flavor, which surprisingly I thought had a slight cherry flavor to it. It could be my imagination, but I also thought the yellow colored ones were sweeter than the orange colored ones 🙂
Overall, 4  stars. Really good, and great for when a chocolate craving comes along. I liked that they had fiber and fruit in them. What I didn't like was that there were dyes in the ingredients. I do wish that they could have used something more natural to color their product with, but, regardless, I'd eat them again.
40 grams is 150 calories, 2.5 grams of fat, 32 grams of carbohydrates, 2 grams of carbohydrates, 26 grams of sugar and 1 gram of protein.
When eating colored candies, is there any color you won't eat? Or any color that's your favorite? When it's fruity candies, I always eat the red ones, but when it's chocolate candies, my favorite are the bright colored ones!
I was provided to try these candies for free.