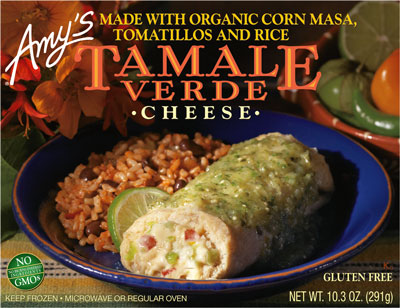 So today was a  bad day. Just overall, i was NOT having a good day. And then I had this meal, and honestly, my day took a 180 degree spin in the other direction. I was not expecting this meal to be so GOOD! But let's give some background information first. Amy's tamale verde with cheese is new, is made with organic corn masa, tomatillos and rice. It's gluten free (yay!) too. Amy's says "The organic masa (ground and cooked corn) is poured onto individual parchments, filled with a mixture of Monterey Jack Cheese, chiles and jalapenos, and then folded and steamed. The tamales are then unwrapped by hand, topped withour delicious verde sauce and served with a side of Spanish rice made from organic brown rice and organic black beans". Let's Dig In !!!!
The Tamale- Summed up in a word, AMAZING. The corn masa=love. It's soft, flavorful, buttery tasting and so satisfying. You know how you get a frozen meal with "cheese" and most of it magically vanishes in the microwave? Not here! They definietly don't scrimp on the cheese in the tamale. It's gooey and rich, and has chiles and jalapenos  embedded in the cheese. But they aren't too spicy, and are perfect with the stringy and gooey goodness of the cheese. I don't even like cheese that much ( i pull it off my pizza…!) but this was just so good. It's even topped with the verde salsa- which had a sweet taste of lime.
The rice and beans are a nice compliment to the tamale. They have a combination flavor between tomatoes and a "taco seasoning" taste. It's really good-but not too spicy. The baby bell peppers also add a little kick. The rice (brown rice-whole grain yay!) is fluffy, and the beans are soft.  I liked mixing the rice with the leftover verde sauce that oozed on the side of the tamale 🙂
Overall, this meal, ROCKS. DEFinitely buying again, and it's a 5 star for sure. It's filling, it hit the spot, and it made my crappy day better 🙂 The only thing keeping me from eating this one EVERY night is the cheese/fat factor. There are 5 grams of saturated and 16 grams of fat per meal-which is a wee bit high, but it's so good, and definitely healthier than anything you would get at a restaurant!
1 meal is 360 calories, 16 grams of fat, 45 carbohydrates, 5 grams of fiber, and 10 grams of protein. There's also 25% of your needs for calcium.
FILTERED WATER, ORGANIC TOMATILLOS, ORGANIC CORN MASA (ORGANIC STONE GROUND CORN FLOUR, TRACE OF LIME), ORGANIC ONIONS, MONTEREY JACK CHEESE, ORGANIC BROWN RICE, ORGANIC GREEN CHILES, ORGANIC BLACK BEANS, ORGANIC TOMATOES, ORGANIC BELL PEPPERS, EXPELLER PRESSED HIGH OLEIC SAFFLOWER OIL, SPICES, SEA SALT, ORGANIC GARLIC, ORGANIC EVAPORATED CANE JUICE, ORGANIC DISTILLED VINEGAR, BAKING SODA, ORGANIC JALAPENO PEPPERS.