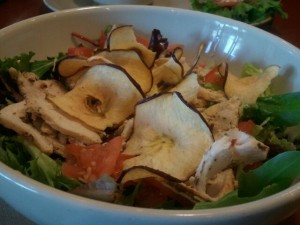 I'm not a huge salad person, I'd much rather eat a sandwich, but every now and then I do get a craving for something green, leafy and crunchy. I went to Panera Bread the other day, and got the Fuji Apple Chicken Salad, sans gorgonzola, red onions and pecans. Let me tell you- this is one of the most delicious salads I have ever eaten! It was literally so good, I ate every single last piece of lettuce in that bowl. 🙂
When it first got to my table, I took a look at what I got. Apple chips, big chunks of chicken, lettuce and leaves of different varieties, and tomatoes, all with dressing on it. As a note to myself, I might ask for the dressing on the side next time, not because there was too much, because there was just the right amount, but I noticed some of the dressing went to the bottom and I had a few leaves that were dry. I also loved the fact that the salad was served in a reusable dish rather than plastic or cardboard to throw away – gave it a very "home-like" appeal!
Anyway –
Onto the salad! The  leaves and lettuce was crunchy and fresh. At first I thought I was going to want more lettuce, but by the time I was done I was really satisfied with what I had. The chicken on top was cold, well seasoned/peppery, and chewy. And there was PLENTY of chicken, which I liked, because there was no scrimping there!
Onto my favorite part of the salad, the apple chips. Literally, delicious. I ate one, and saved the rest to the side of my bowl for when I finished the salad as my "treat". They had the consistency and slight oily texture of potato chips, but with a sweet and crunchy apple flavor. One of my chips even had a stem in it like the real apple would from the tree! I only wish there were more chips- they were so good!
Lastly, the dressing. This dressing was so yummy. It was sweet and had a zing to it that made me pucker, but it was so good! There was plenty of dressing, but as I said, some of it went to the bottom that I had to use my lettuce leaves to scrape up.
Overall, really, really good!  I so wish I could eat salads like that every day (and wish I had the paycheck to support it!) I would certainly get this again. 4 1/2 stars
Dont forget this Silk Giveaway here! 🙂
What's your favorite thing to get at Panera Bread? (If you haven't been there- what's your favorite salad you make at home?)