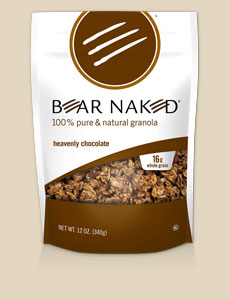 Source
Seeing as I'm going with a chocolate theme for the last few posts, I figured a review of Bear Naked Heavenly Chocolate all natural granola fit the bill quite nicely.
I got a coupon for a free bag of Bear Naked's cereals from the company, and brought it with me to the store. I always remember seeing these cereals on the shelves, but I rarely buy granola- too calorie dense and too delicious to stop at the measly serving size provided. But hey- this bag was free for me, so why not "splurge" a little? 😉
I decided to pick up the Heavenly Chocolate simply because it was different. I'm so used to fruity granolas, especially cinnamon & raisin types, or something with fruit and nuts. Plus, how can something called Heavenly Chocolate taste bad? Exactly.
At first I turned over the bag- not too shabby. Only 7 grams of sugar for one serving (I've seen granolas with sugar counts over TWENTY grams a serving. Sheesh!!), and 130 calories for 1/4 of a cup. Plus, it provides 16 grams of whole grains for one serving, and the first ingredient was oats. Alright, I can dig it.
So, I opened up the bag, and figured the best way to try this was…. straight out of the bag! It smells really good. Like a melted chocolate bar. Yum! Rather than individual oats, they are small "clumps" of brown-chocolately covered clusters, that are just the right mix of chewy and crunchy. I also spotted some baby chocolate chips in some of the "clusters". It had a nice cocoa/chocolate flavor, without being overly sweet. Just right, in fact. The perfect cereal to have with milk (or soy milk or almond milk or _insert your favorite milk) and a sliced banana. And, gotta love that it's all natural and NO high fructose corn syrup. Woo-hoo!
Overall, I give this cereal 4 stars. It certainly was tasty, and quite addictive. I also think this is a great topping for yogurt or frozen yogurt (I'm already planning on having a raspberry Chobani yogurt with this cereal!!) I don't think anyone can stick to the 1/4 of a cup serving size- too good! On the bright side, if you do have 1/2 a cup, it's 260 calories, 8 grams of fat, 4 grams of fiber and a lot of chocolatey goodness! It loses some points because it included refined sugar in the ingredients, and I try to stay away from that as much as possible 🙂
1 serving, 1/4 of a cup, is 130 calories, 4 grams of fat, 21 carbohydrates, 2 grams of fiber, 7 grams of sugar and 3 grams of protein.
Whole Grain oats, Chocolate Chips (sugar, chocolate liquor, cocoa butter, soy lecithin, milk), Honey, Brown Rice Syrup, Evaporated Cane Juice, Canola Oil, Whole Grain Crisp Rice (whole grain rice, barley malt), Cocoa, Chocolate Extract, Ground Flax Seeds, Oat Bran, Natural Flavor, Coconut.