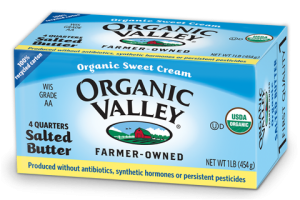 With the holidays approaching and lots of yummy treats being made, why not try something different? I'm all for organic and natural foods, and try to eat them whenever possible. So what about in the next cookie or cake recipe that calls for butter, trying an organic brand, like Organic Valley Organic Butter? I tried this in a recipe not too long ago, and although the taste wasn't much different than the standard butter I normally would have used, I did have a little piece of mind knowing it was organic. I had no problems with the butter and it went great with my recipe. Plus, I think every little bit helps!
Do you use any organic products when you make cookies or other treats? Or, slightly off topic, but I'd like to know what do you do to make the holidays healthier? Please leave me a comment below! 🙂
I was provided a coupon to try the Organic Valley Organic Butter for free.