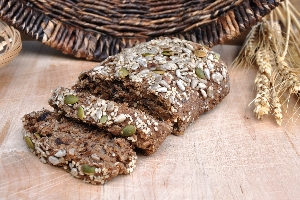 Mmmm carbs. How could anyone not like carbohydrate-rich foods? I know I may not be a "pasta person", but I do love bread!
For today's review, it's the Fig, Fennel & Flax Manna Bread from Manna Organics. I have tried a few of them in the past, and thought they were okay, but I'm always up for trying new flavors. I was provided this loaf from Manna Organics to try for free as well.
I opened up the package and saw a loaf covered in seeds- pumpkin, sunflower, poppy seeds and sesame seeds. Oddly enough, I didn't see any flax seeds or figs (go figure). Anyway- I cut off a slice and divided it into 3. I was going to try it 3 ways..
Cold and plain- eaten this way, the bread was rather dry, bland, and had a slight poppyseed and rye bread flavor.
Then, I warmed up a piece in the microwave- this way was a bit better, as some of the fig flavor came out and made it lightly sweet, and I tasted more of the seeds as well.
The best method of the 3, was warming it up and putting a little bit of apple butter on it. Delicious! It was chewy and soft, and complemented the sweetness of the apple butter very well.
Overall, I'm giving it 3 stars. It was really only good with the apple butter on it, and I wish it had a stronger fig flavor. One thing I did like was that I didn't detect much flaxseed flavor, a flavor I really don't like as I  think it can taste fishy sometimes. But this bread has a lot to offer. It's organic, and according to the package, is "Free from Added Sweeteners, Salt, Yeast or Oil". A versatile bread!
1 2 oz. slice is 120 calories, 1.5 grams of fat, 26 grams of carbohydrates, 5 grams of fiber, 8 grams of sugar, 4 grams of protein.
What's your favorite type of bread? I'm a fan of banana bread 🙂