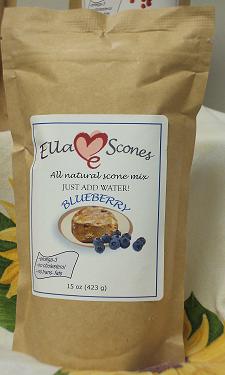 One of my favorite things to do is to bake yummy treats. Cookies, cakes, cupcakes, brownies, etc. I love to bake for others not only to make them happy, but it makes the house smell delicious!
Which is why I was especially excited to recieve the all natural blueberry scone mix from Ella Baking Mixes. According to the package, "ELLA Scones are created in memory of our mother, who during the last few years of her life ailed from heart disease. The mixes are our tribute to ELLA, and it is her love for life that brings the heart healthiest scones to your table. ELLA scones are rich in Soy & Omega-3, which in studies have showed to be beneficial in the prevention of heart disease".
The package gives you directions to make scones, or muffins. I opted for the muffin version, which instead of adding water, you can add either 1 1/2 cups of milk, or 3/4 cup milk + 3/4 cup fruit juice. I went for the milk method, and mixed in 1 1/2 cups of skim milk. It mixed together relatively easy, creating a batter than was slightly lumpy and creamy. What shocked me was that there was actually a light blue color from the pieces of blueberries! 🙂
I ended up being able to make 12 muffins, which were average sized. Not super big, but not mini either. They smelled delicious while they were baking- a lovely blueberry aroma.
Once they were done, I tried a piece. They had a mild blueberry flavor, were moist and fluffy, and lightly sweet. My friend tried some too, but she toasted hers and added a little bit of butter. She enjoyed them, and I ended up giving her some of the muffins to keep.
Overall, these get 3 1/2 stars. I like that they are a good source of Omega-3, and that I had the option to make either scones or muffins. I do, however, wish they were a bit sweeter and had more of a blueberry flavor. If I were to make these again, I would probably add a bit of sweetener or spread some blueberry preserves/jelly on the muffin once it was done. I also wish they were made with whole wheat flour instead of wheat flour, or at least half whole wheat, half wheat for a higher fiber content.
Ingredients in mix- Wheat Flour, Evaporated Cane Juice, Blueberries, Canola Oil, Soy Protein Isolate, Leavening (sodium acid pyrophosphate, sodium bicarbonate, corn starch, monocalcium phosphate), natural flavor, buttermilk, fish oil MEG-3.