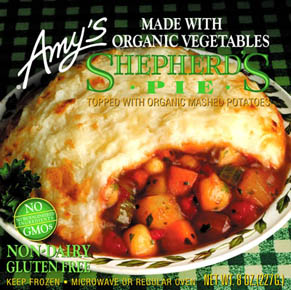 Amy's Kitchen has made a Sheperd's Pie that is meatless, gluten AND dairy free. Amy's says this Sheperd's Pie has "organic vegetables in a nourishing broth blanketed with smooth mashed potatoes". This meal also has only 4 grams of fat, no cholesterol, and is completely and 100% natural.
So I followed the microwave instructions and popped this pie in, let it sit for 2 minutes as directed, and popped it on out. I decided to have it with some Trader Joe's soy nuggets & applesauce, because I had a feeling a little vegetable pie would not be enough to satisfy my raging hunger after an afternoon run.
After 5ish minutes or so, a little bit of the filling oozed out into the packaging, but nothing I couldn't handle lick off the wrapper. I decided to try just the top first-the mashed potatoes. They were super fluffy with a real homemade taste. The potatoes were nice and creamy, and almost had a whipped-like consistency. There were garlic and onion flavors that also complimented the potatoes nicely. Onto the filling-assorted vegetables consisteing of bits of mushrooms, carrots, celery, garbanzo beans and tomatoes.  It sort of reminded me of vegetable soup- the taste, not the consistency. It had a tomatoey-based taste, mixed with some spices, which included a dash of black pepper. This pie was packed with these veggies, that were all tender and nicely cooked, The carrots were not as tender, and had a bit more of a bite to them. In my opinion, I liked that the carrots were slightly less soft than the rest of the veggies- mushy carrots are for baby food jars! 😛 The filling also had a slightly salty and garlicy flavor, but overall was very tasty.
Overall, I give this pie 4 stars. Amy's rarely lets me down- I have yet to encounter a meal I haven't liked. This pie has a very good flavor- a comfort food for sure. It's not enough by itself for a meal, but if you pump it up with some protein and veggies (or applesauce!!), you can turn it into a light, healthy and delicious.  However, my favorite part was the crispy edges that formed on the potatoes after being cooked in the microwave. Yum!! 🙂
What's YOUR favorite Amy's Product? Let me know!!
1 pie is 160 calories, 4 grams of fat, 27 carbohydrates, 5 grams of fiber, and 5 grams of protein.