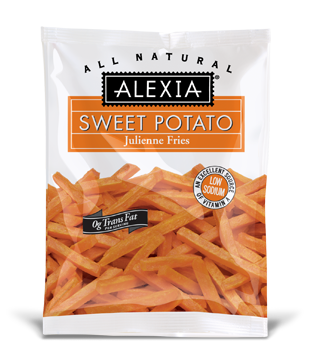 First off, HAPPY 2011!!! As part of my last dinner of 2010, last night I had Alexia Sweet Potato Julienne Fries that I got the other day. Now, I'm not really a french fry kind of girl, seeing as I'm not usually crazy about ones that are made at home and I don't eat fast food. But, these french fries were all natural, and on the package it even stated that they were "low sodium".
Plus, and most importantly, I love sweet potatoes. I'd eat a sweet potato over a regular potato any day. Nothing against the regular potato, I just prefer them of the sweet variety. Moving on…
So I cooked some of these in the oven last night  until they looked slightly brown on the outside. I picked one up and noticed it wasn't as light or airy as I had expected- quite a dense fry. Not too greasy either- not saying they were dry, but there certainly weren't pools of oil following the fries(yay!). I tasted one, and I must admit the first thing I was missing was the salt. These fries only had 140mg of salt per 3 oz serving, so that is pretty good, and I'd be telling the truth lying if I said I didn't add just a sprinkle of salt to them. Oh well.
As for the taste- very good!  A pure, slightly sweet sweet potato flavor, with a crispy outside and a warm, soft inside. The perfect french fry in my opinion. No soggy spots, or spots of fries that were burnt or too crispy. Just right.
Overall, 4 stars. Quite tasty, and a new way for me to enjoy the sweet potato. I love that they are all natural and have 3 grams of fiber per 3 oz serving, but I wish they had just a bit more salt. Then again, nothing too major, and a great product as a whole. If you like fries, perhaps try these!!
3 ounces is 140 calories, 5 grams of fat, 24 grams of carbohydrates, 3 grams of fiber, 6 grams of sugar, and 1 gram of protein.
Which one do you prefer? Sweet potato or regular potato?