Last few days to enter the CHOCOLATEY giveaway! 🙂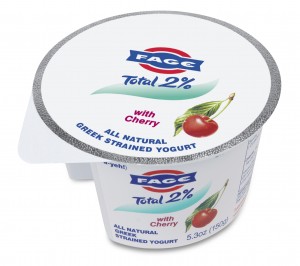 I love YOGURT! I try to eat at least one every day, whether it's for breakfast, snack, or even dessert! A yogurt I have seen in the stores by me is Fage, which according to the website, makes "Ridiculously thick yogurt". They have a few different types of products, including the TOTAL 2% Peach, Strawberry and Cherry yogurt.
The people over at Fage sent me some coupons to try out some of their products, and I was most excited about the TOTAL 2% yogurt with the fruit compartments. I decided to try the Cherry, Peach, and Strawberry flavors that were offered. The TOTAL 2% yogurts have 2 compartments, one with yogurt, and the other, smaller, compartment has an almost jelly-like flavor. It's sort of like a fruit on the bottom yogurt, but the fruit is actually separated on the side. I thought they looked cool and interesting, so I figured why not give these a try?
The yogurt part on all three flavors was pretty much the same. A plain, tart but not too tart yogurt, that really was quite thick. It was creamy too, and sort of reminded me of sour cream. I also think it had a bit of actual cream taste, which was really delicious. I enjoyed this part plain, but also with the peach, cherry and strawberry sides.
Peach- ahh, so refreshing. This jelly-like side had small and soft bits of peaches, all together in a sweet syrup. Really good! 4 1/2 stars
Strawberry- this one was also delicious. A sweet strawberry flavor, not as sweet as strawberry jam, but still good. Smooth and yummy, it had an authentic strawberry flavor that did not disappoint. 4 1/2 stars
Cherry- oh, my, this one was the BEST! I thought Strawberry was going to be my favorite, but Cherry really made my day! Sweet in the best way possible, it went just PERFECT with the yogurt. I actually found myself licking the compartment where the fruit was clean. SOOO good! 5 stars
Overall,  a really great product. I certainly will buy more in the future. I think it's perfect as a snack with some fruit, or even for breakfast with some cereal or oatmeal! The creamy yogurt and sweet fruit compartments both equally great. I just wish the fruit section was bigger! 😉
1 yogurt is 130 calories, 2.5 grams of fat, 18 carbohydrates, 17 grams of sugar,0 grams of fiber and 11 grams of protein.