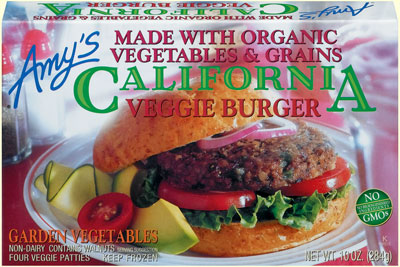 What comes to mind when I say, Veggie Burger? Are you thinking of a schlop of veggies pureed into a patty? Well that's old school veggie burgers, my friends. Veggie & soy products have gone a looooong way from what they used to be, and some are actually quite tasty. I personally, have never had a veggie burger. So here it is- my first "veggie" burger experience. And what better brand to try than Amy's?
Fortunately, I was sent the California Veggie Burger, voted Favorite Veg Meat by magazine VegNews in the "Veggie Awards of 2009". They claimed "Vegetarian food darling Amy's Kitchen delivers your top choice with a whole-foods burger bursting with flavor". I was excited. This burger had to be good if it won an award in a magazine. Plus, I'm in love with Amy's. How could i lose?
And I sure didn't! 😀
Each burger is the average patty size, and actually decently thick. It has a brown/tanish hue and looking at the patty itself you can see all the yummy veggies, like
celery 
and
carrots
, blended nicely in the burger. I cooked mine in the microwave for 60 seconds, and then popped it in the toaster oven to crisp it up a bit.
I took a bite
, and
instantly
I thought of Amy's Kitchen Veggie Steak Whole Meal- a.k.a. formerly Country Dinner Whole Meal. The burger tastes
very
similar to the veggie steak in this meal, with slight variation of course. It has an oaty, lima bean taste, with a hint of cheddar cheese and some salt. It has a "grainy" texture, I felt it was more "crab cake" than "ground beef" consistency. There are also little crunchies throughout the burger due to the walnuts. It was
very
flavorful
and I actually did really enjoy it. It also had a nice garlic and onion flavor to it as well.
Overall, I give this burger 4 stars. It was surprisingly filling and satisfying, and very tasty. Amy's never lets me down! I had it twice so far, once as a light meal with some salad and applesauce, and once with a slice of cheddar cheese on top. Both were very good combinations, I especially enjoyed it with the applesauce because I love sweet & savory mixed together.
So-moral of the story? Don't fear veggie products! (at least not ones made by Amy's Kitchen). I really want to try the Cheddar Burger and the Gluten Free Bistro varieties too!! 🙂 🙂
1 burger is 140 calories, 5 grams of fat, 19 grams of carbohydrates, 4 grams of fiber, and 6 grams of protein. A good swap for beef anyday.
ORGANIC MUSHROOMS, ORGANIC ONIONS, ORGANIC BULGAR WHEAT, ORGANIC CELERY, ORGANIC CARROTS, ORGANIC OATS, ORGANIC WALNUTS, WHEAT GLUTEN, ORGANIC POTATOES, SEA SALT, EXPELLER PRESSED HIGH OLEIC SAFFLOWER OIL, ORGANIC GARLIC.