Foot pain. I feel like I hear everyone complain how their feet hurt almost daily. And how can you blame anyone? We have jobs! A lot of them standing (think teachers, doctors, sales clerks…so many!), and a lot of them even walking quite a bit (thank your Nurse and PAs you see! They are definitely on their feet all day long!). Or even if you don't work, foot pain is such a common complaint.
Myself? I have some issues. I may be young (err, quarter century or so), but my arches hurt unless I wear an arch support, and since I am a diabetic, my feet are prone to blisters due to extra sensitive skin. I also have occasional heel pain since I pronate too much when I walk. It has caused me to have some shin splints (when I did track) and knee problems down the line =(
So…introducing Vionic Venture Walker shoes! I got sent a pair from the company in Fuchsia to try out.  The website says one of the main features is that it has "Orthoheel Technology" which is a "biomechanic orthotic footbed that naturally aligns your feet and may help to relieve heel pain produced by reducing over-pronation".  This is good news! I was definitely excited to try a pair.
Here's what they look like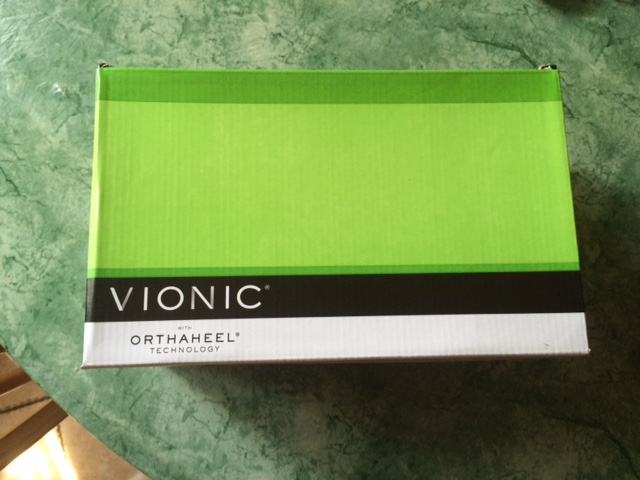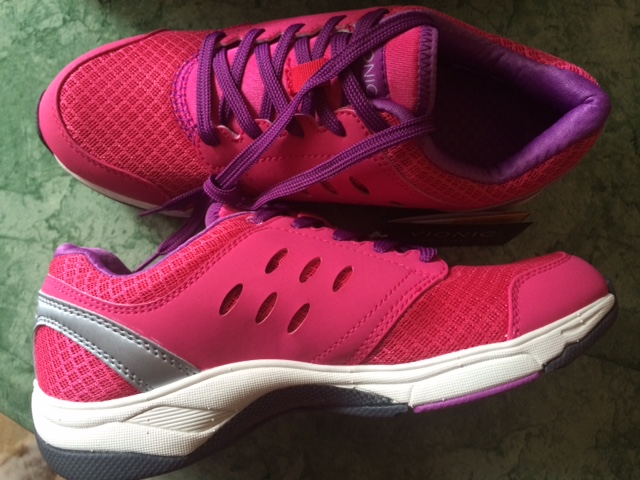 Mmmm. Look at that heel…looks nice and cushiony!
So first off, I really liked the color combinations. I have been told over and over by doctors to get "orthopedic shoes" but let's be honest…most of them are really ugly. These however, are super cute!! I am a huge fan of pink, and I like the fuchsia color mixed with purple interior. The purple laces were also anice touch, and easy to tie. I like how they are not wide either, they just look like normal sneakers 🙂
But how did they feel?
They were soft on top, so not constricting on the foot at all.
There was a heavy duty arch support, which is nice, but definitely took some getting used to when you put it on. Within a few minutes of walking I forgot about it though, but it definitely is noticeable.
However, these are extremely comfortable, no complaints at all. I usually have issues with heel, or by toe area for sneakers. Too compressed or tight, but the lightweight top on these shoes allowed my feet to move without being constricted.
They were also very breathable, my feet didn't sweat even on a hot day.
So…in a nut shell…these are winners! I am going to be wearing these essentially until I can't wear them anymore. It's definitely not easy finding a shoe that is stylish and fits comfortably. I am going to give these a solid 4.5 out of 5 stars. The only minor drawback I think is that the arch is very strong, which is totally fine for me, but may be bothersome for other individuals. It might just be that they are new and the arch might mold more to my foot as I walk, so we shall find out. Either way, I would definitely buy a pair of these in the future.
I received this product for free. This is an unbiased review.