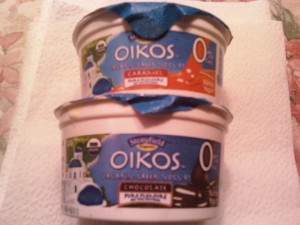 Wait a second. Did you read correctly? Caramel and Chocolate GREEK YOGURT? And ORGANIC? No way.. it can't be possible…
It is! 😉 Oikos has now officially combined sinful & good-for-you. Their 2 new greek yogurt flavors, available in individual 4 packs, of Pure Pleasure Caramel and Chocolate are good for you, the earth, and your taste buds.
 I was super excited when I finally located these in my grocery store, and picked up both without hesistation with the coupon Stonyfield provided me (Thanks, Kristina!). I couldn't wait to dig in once I got home, and driving home was already thinking of how to try them. The caramel flavor with slices apples? popcorn? pears? The chocolate flavor with strawberries? pretzels? crushed up Annie's bunny grahams? (okay, I admit, there was a few drool spots on my car seat from thinking of my delectable combinations…)
The greek yogurt part wasn't as thick as traditional greek yogurt, but was more of a mixture of plain yogurt and greek put together. I didn't mind that, in fact, I actually preferred it. I don't really like my greek yogurt soooo thick when I'm eating it by itself. (However, if I'm eating granola with yogurt, I do like it thick). The yogurt part by itself was actually a little sweet, and then the pure pleasure was on the bottom.
 I decided to try the caramel flavor first. It wasn't THICK like on a caramel apple, but smooth and easy to stir with the yogurt. It had a nice sweetness to it, with a buttery, even brown-sugar taste.
Next was the chocolate. The bottom was a little bit thicker than chocolate syrup, and tasted sort of like that too. Although not as sweet as your typical chocolate syrup, it had a rich cocoa flavor, and was also smooth and delicious.
I didn't mix mine completely, I prefer to take spoonfuls where half the spoon is yogurt, half the spoon is caramel/chocolate, and let the mixing take place in my mouth 🙂 I think you can enjoy the sweet bottom, may it be caramel, chocolate or even fruit, better. These definietely get 4 1/2 stars. They are the perfect pick me up, with the perfect sweetness, and are a good size to pair with some fruit or granola for a snack or a light breakfast.
With one of my yogurts, I actually ate the whole top first, and then left the bottom to enjoy by itself! Which is why I think it's a good thing these come in a 4 pack variety, I KNOW if it came in the 64 oz, or the BIG containers, all of you would just go straight for the caramel-ly or chocolatey goodness at the bottom, now wouldn't you? 😛
1 container is 110 calories, 0 grams of fat, 17 grams of carbohydrates, 0 fiber,  and 10 grams of protein.
Caramel- ORGANIC NONFAT MILK, ORGANIC SUGAR, NATURAL FLAVOR, PECTIN, CARRAGEENAN.  CONTAINS FIVE LIVE AND ACTIVE CULTURES INCLUDING L. ACIDOPHILUS, BIFIDUS, AND L. CASEI.
Chocolate– ORGANIC NONFAT MILK, ORGANIC SUGAR, ORGANIC COCOA, PECTIN, NATURAL FLAVOR, ORGANIC CAROB BEAN GUM.  CONTAINS FIVE LIVE AND ACTIVE CULTURES INCLUDING L. ACIDOPHILUS, BIFIDUS, AND L. CASEI.