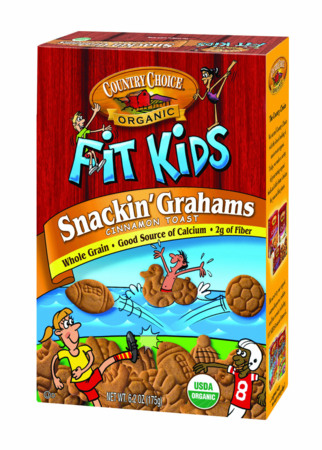 Country Choice Organic is a great brand with a lot to offer, in both taste and nutrition. They make organic snacks, cookies, and breakfast foods, like oatmeal. According to the website, "Our hot cereals, snacks and cookies are made with simple ingredients and maintain strict USDA organic standards." As an added bonus, "all of Country Choice Organic products are made with a minimum of 95% organic ingredients, qualifying for the USDA Organic seal."
Finally- products you can feel good about eating, and are good for you!
I was lucky enough to get to try something from the Fit Kids line- the Snackin' Grahams in both chocolate and cinnamon toast flavors. Their Fit Kids' line is designed to provide nutritious and delicious foods to fuel kids who live active lifestyles.
First off, the snackin' grahams come in adorable shapes. They have roller skates, footballs, baseball mits, soccerballs (hey- are you feeling a bit biased here? What? No ballet slippers? 😉 ). Each one is actually a nice size, about the size of a quarter (aside from the roller-skate), and are actually pretty thick, too.
chocolate- Nice and crunchy, these went perfectly with my caramel Oikos yogurt, and also went great with a glass of milk (although, straight out of the bag is also a reccommended option 🙂 ). They had a good chocolatey flavor, and reminded me of chocolate flavored Teddy Grahams, or those graham crackers that come in squares and you have to break off into pieces. They weren't overly sweet, but just right. They were addictive, my hand definietely went in the bag multiple times 🙂
Cinnamon Toast- Not sure why they called it Cinnamon "toast", but there definietely is cinnamon! They reminded me of an old favorite, Annie's Cinnamon Bunny Grahams (I can devour a box of those in, 2 days 2 hours). These grahams combined a nice flavor of cinnamon and sugar, and had just a wee bit of vanilla flavoring as well. These went perfect with an ice cold glass of milk, as they were a bit dry on their own. I relived childhood as I dropped soccer ball shaped grahams in my glass of milk. 8)
Overall, I'm giving these 4  stars. They were very satisfying, nutritious, and had some healthy benefits. They provide 10% of daily calcium need, 2 grams of fiber (which "graham" snacks often lack), and 4 grams of whole grans (not a lot, but some is better than non!). What I didn't like was the fact that the 1st ingredient was just wheat flour instead of whole wheat flour (boo!), followed by the 2nd ingredient, sugar (couldn't we have used a less refined sweetener?). However, I love the fact that these are organic, delicious, and have more to offer than traditional graham cracker snacks at the store. I will  be buying these again when my bag runs out (which, will be soon! 🙁 )
18 pieces is 110-120 calories,  2.5-3 grams of fat, 20-21 carbohydrates, 2 grams of fiber, and 2 grams of protein.
Chocolate-Organic Wheat Four, Organic Sugar, Organic Whole Wheat Flour, Organic Cocoa Processed with Alkali, Organic Palm Oil, Organic Cane Syrup, Organic Oat Fiber, Organic High Oleic Sunflower Oil, Calcium Carbonate, Natural Flavors, Baking Soda, Sea Salt, Organic Vanilla Extract, Organic Malted Barley Extract, Soy Lecithin, Cream of Tartar.
Cinnamon Toast-Organic Wheat Flour, Organic Sugar, Organic Whole Wheat Flour, Organic Palm Oil, Organic Cane Syrup, Organic Oat Fiber, Organic High Oleic Sunflower Oil, Organic Cinnamon, Calcium Carbonate, Organic Vanilla Extract, Sea Salt, Natural Flavors, Baking Soda, Soy Lecithin, Cream of Tartar.