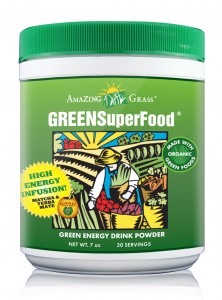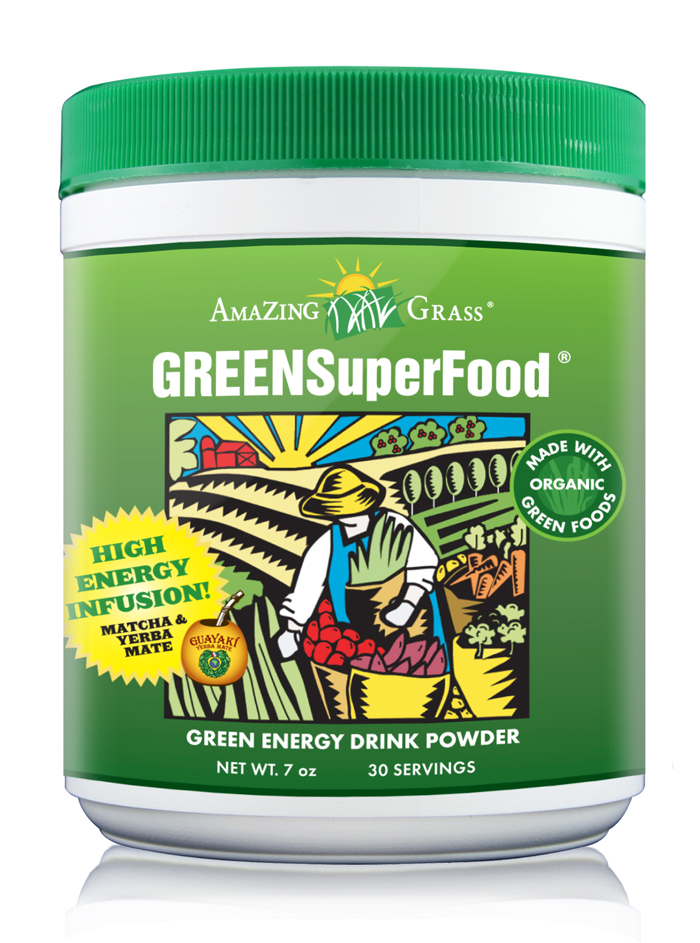 Amazing Grass makes some pretty awesome products, ranging from energy bars to drink powders. According to the website, "To help people lead healthier more active lives by achieving their full potential through better nutrition. We strive to educate the world by spreading the word about the amazing benefits of cereal grasses. Amazing Grass will spare no resources or expense to produce nutritionally superior products with the highest quality organic cereal grasses available anywhere in the world." Awesome! 🙂
The kind folks over at Amazing Grass sent me the GREENSuperFood Lemon Lime Energy Drink Powder to try. I haven't really tried many "energy" supplements before, as I feel that most of them have way too much caffeine. Here are some statements about this drink powder that I got straight from the container.
"-Infused with a kick of energy from yerba mate & matcha.
-A delicious drink powder to help you achieve your reccommended 5 to 9 daily servings of fruits and vegetables.
-Boost energy levels with natural stimulants
-Contains plant based caffeine
-Contains probiotics and enzymes to aid digestion and absorption
-Contains over 70% organic ingredients"
This stuff seemed pretty good!
I decided to give it a try. It reccommends mixing 1 scoop of the powder with juice, water or a smoothie. I chose water, because I wanted to get a feel for what it tasted like without being mixed with anything else. Upon opening the container, it smells like a lemon-lime soda, slightly tangy but still sweet. It was a sage green in color, with a "piecy" consistency once mixed with the water (which, by the way, the mixing process was very easy. I didn't have to use a blender or anything- just a spoon). I took a sip of my drink, and it had a mild lemon/lime flavor. Slightly sweet, but more sweet than I had expected. By itself, I would give the taste 3 stars with water. I reccommend trying it with juice or a smoothie like Amazing Grass also reccommends, that way the taste can be even more enjoyable. However, as a product overall, I give it 4 stars. I love that it has natural ingredients, provides a little fiber and protein, and has 0 grams of sugar per serving.
1 scoop (7 grams), is 30 calories, 1 gram of fat, 4 carbohydrates, 2 grams of fiber, 0 grams of sugar and 2 grams of protein.
Organic Wheat Grass, Organic Barley Grass, Organic Alfalfa, Organic Spirulina, Organic Spinach, Organic Chlorella (cracked cell-wall), Organic Broccoli, Organic Yerba Mate extract, Matcha Green Tea, Organic Acai Berry, Organic Maca Root, Organic Carrot, Organic Beet, Raspberry, Organic Rose Hips, Organic Pineapple, Acerola Cherry, Organic Flax Seed Powder, Apple Pectin Fiber, F.O.S. (from Chicory Root), L. Acidophilus, Alpha and Beta Amylase, Protease, Lipase, Lactase, Cellulose, Stevia Leaf Extract, Natural Flavors, Citric Acid, Peppermint Leaf, Silica.
If you want to buy some awesome Amazing Grass products, you can click on this image below!