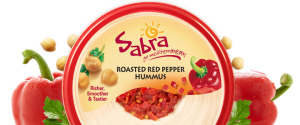 One of my new favorite things is hummus. I have not really tried it until this year, and I am so happy I finally did after seeing and hearing great things about it.
So, Sabra sent me a coupon to try a free hummus, and I picked the Roasted Red Pepper Hummus. I wasn't sure really why I had picked that flavor to be honest- I'm not even really a big fan of red peppers! But, it looked interesting and I figured Why Not?
And, after trying it, I am saying to myself Why Not Why Have I Never Tried This Before!?!?
Honestly, this was absolutely DELICIOUS. It is a pale yellow in color, with a center of pieces of red peppers. Super creamy, with a great flavor, I'm almost at a loss how to describe the taste other than delicious. It had a great salty flavor, with bits of garlicy flavor too. What I also liked was that the hummus itself did not have a really powerful red pepper flavor, and I could enhance the red pepper flavor to my preferences simply by mixing some of the middle in with the hummus. Perfection!
Overall, this gets 5 stars. I can CERTAINLY see myself eating this again. I find it very versatile and tasty, and I can't wait to try other flavors that Sabra has to offer!
* What is your favorite way to enjoy hummus and favorite brand/flavor? If you'd like to answer, please leave a comment below! *
1 serving, 2 tbsp. is 70 calories, 6 grams of fat, 4 grams of carbohydrates, 1 gram of fiber, 0 grams of sugar, and 2 grams of protein.
Cooked Chickpeas [Chickpeas (Garbanzos), Water], Tahini (Ground Sesame), Soybean And/Or Canola Oil, Red Bell Pepper, Garlic, Salt, Citric Acid, Seasoning And Spices, Natural Flavors, Potassium Sorbate Added To Maintain Freshness.