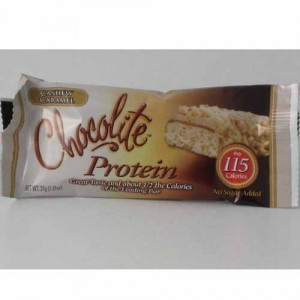 Health Smart Foods sent me some of the Chocolite products to try a little while ago, including the Caramel Cashew Protein Bar. I cannot even begin to tell you how happy I was when I first bit into this bar.
First off, the nutritional stats really rock. One bar has 10 grams of fiber, 115 calories, and only 1 gram of sugar.
But the taste is what won me over. The bar itself is dense and chewy, with a thick white coating on the outside, and visible bumps of cashews. The coating tastes like a mix of a buttery sweet white chocolate and a vanilla icing. Smooth and rich and delicious. It did not have an overpowering caramel flavor, which I liked, but was just enough to make it chewy and add a little sweetness. The cashew nuts are crunchy and tasty as well.
I literally was upset when this bar was over. So delicious, and I loved the thick white coating on the outside. It was VERY satisfying, for both my hunger pangs and my taste buds. Amazing!  5 stars !  😀
1 bar is 115 calories, 6 grams of fat, 18 grams of carbohydrates, 10 grams of fiber, 1 gram of sugar and 9 grams of protein.