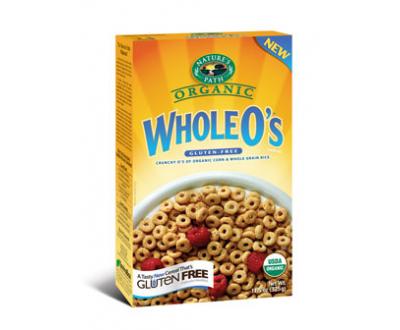 Nature's Path is a brand that really has never let me down. I think they make delicious and healthy products, and have a LOT to choose from!
I was sent a box of the Whole O's to try from Nature's Path. Along with being organic,  this cereal is gluten free. I wasn't really sure what to make of this cereal (before I tried it). There was only 4 grams of sugar per serving, so I wasn't expecting a sweet cereal, and gluten-free products have sort of been a hit or miss for me.
Anyway-
So, according to the box, these were "Crunchy O's of Organic Corn & Whole Grain Rice". I opened up the box and saw little brown pieces of cereal, in the shapes of circles.  I tried a few by themselves and thought, WOW! I certainly agree that they are "crunchy"! I wasn't really expecting them to be so crispy and crunchy! They had sort of a toasted flavor to them, and tasted like brown crispy rice cereal. They were airy and had just a bit of sweetness at the end. I tried them in milk next, and was still impressed. I chopped up a granny smith apple and had this cereal with some almond milk and was very happy.
Overall, I wasn't expecting to like these as much as I did. The ONLY thing I was really disappointed about was that a serving size is 2/3 of a cup, and I wish it was a bit bigger, as I like to eat a lot of cereal : )  Otherwise, a winner in my eyes, and really good nutrition facts, too!  4 1/2 stars
2/3 cup is 110 calories, 1.5 grams of fat, 25 grams of carbohydrates, 3 grams of fiber, 4 grams of sugar, and 2 grams of protein.
Organic Brown Rice Flour, Organic Corn Flour, Organic Evaporated Cane Juice, Organic Pomegranate Juice Concentrate, Sea Salt.