My first RESTAURANT review! I don't eat out much, but when I do, I want something that's not only tasty, but healthy too!
Yesterday I went to Cosi for dinner, and ordered a Fire-Roasted Veggie Sandwich on whole grain bread and had it warmed up as well. There was the option of chips or carrots on the side, and I chose the carrots-nothing like a side of veggies to go with my veggies! ; )  I believe my total came out to around $8.05, which  I don't think was that bad since it was a pretty large sandwich.
Considering my excellent photography skills, here's what it looked like both open and closed. Apologies for nearly cutting off half of the sandwich..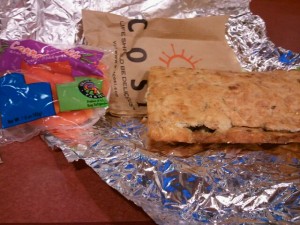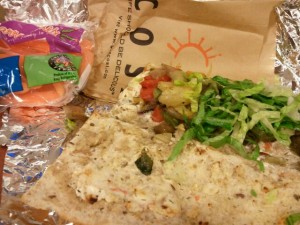 I wasn't really sure how to approach this, so I ate it open-faced with a fork.  I tore off a piece of bread first and took a bite. Mmmmm. Now this is how bread should taste!! It was hard and crunchy on the outside, tasting kind of like a cracker, and then had a softer, slightly chewy consistency on the inside. It was salty, in a good way, and very flavorful. Really, really tasty.
Moving on to the actual sandwich part rather than being the carb queen I am and loving the bread (typical…), the veggies! There was eggplant, onion, peppers, some unidentified vegetables (a pickle?? I wasn't sure what one of them were) and then a few shreds of fresh lettuce. I thought the lettuce was awkward. Why fresh lettuce? It was good, but not super crisp, probably because I asked for my sandwich warm. Anyway- I tried the eggplant first, and well, I wasn't a fan. It was chewy and moist, but just not my style. The peppers were okay- not quite tender so they still had that crunch and bite to them, but fresh tasting. My favorite, ironically because I usually don't like them, was the onions! They were sweet, very soft, and very flavorful.
Lastly, on the delicious bread was a delicious cheesy spread. Oh soooo good! It was salty, creamy and had a white cheddar cheese flavor to it. I was tempted to ask for a Fire-Roasted Veggie Sandwich with only the bread, the cheese, and the onions for next time. But I guess that would be kind of like ordering a loaded baked potato with no toppings. Whatever.
I'd give this a 4 star overall.
I got the nutritional information from the website for the sandwich on Rustic Bread.
1 sandwich (9 oz) is 324 calories, 8 grams of fat, 44 grams of carbohydrates, 4 grams of fiber, 4 grams of sugar and 11 grams of protein.
have you ever eaten at Cosi? What is your favorite thing to get?