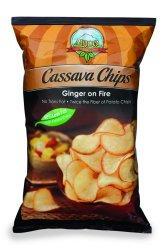 I wasn't sure what to expect of these chips. I saw the words "on Fire" which sounded like they'd be spicy, and "Ginger", so I thought there would be a rather pungent, distinct flavor.  According to the bag, these were "Gluten Free", "Dairy Free" and had "Twice the Fiber of Leading Brand Potato Chips". Hmm… they sounded good!
I opened the bag to avery strong ginger smell,  I was scared to taste these. Once I did, the were a lot better than I expected! Crunchy chips, at first some saltiness happens, then there is just a tinge of sweetness, followed by a basic potato chip taste-with the exception of the burning sensation that ginger can provide. These are pretty good! I loved the mild sweetness they had to them, and the satisfying crunch.
Overall, pretty good chips! I can picture them going just perfect with a sandwich for lunch. A downside is that they are kind of high in saturated fat (3 grams), but on the plus side, the sodium isn't too bad with 150 mg. 3 1/2 stars
1 oz is 150 calories, 6 grams of fat, 3 grams of saturated fat, 18 grams of carbohydrates, 2 grams of fiber, 1 gram of sugar and 1 gram of protein.
What's your favorite flavor of chips? I happen to be partial to sour cream & onion or sweet barbeque!  : )
I was provided these chips to try for free from Arico Natural Foods Company.