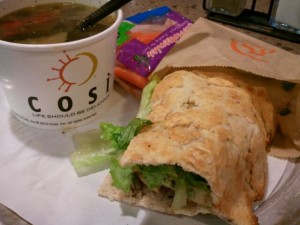 I went to Cosi again, so, here's another restaurant review!
I got the soup and 1/2 sandwich combo, and I tried 2 things I never had before. the Pollo e Pasta Soup and the Tuscan Pesto Chicken Sandwich on whole grain. My total came to $8.48 which  I thought was a fair price.
I tried the soup first. It was actually very hot, so I appreciated that, since I had cold soup, and it was a cold, wintry day yesterday. It had a bunch of green veggies that were leaf-like in appearance floating on the top. On the bottom was pasta, but not a typical noodle, it was more like a dot, or a little circle. They were soft and pretty good. There were also carrots, peppers, & cucumbers that were all rather tender and good. The chicken was chewy yet soft, and there were even I believe chickpeas in this soup- odd, but tasty. The soup was kind of salty, and left a greasy feel on my mouth. It also had a funky onion/garlic aftertaste that I couldn't get past. The first few bites were good, but as I ate it, I liked it less and less. I didn't finish it, because I wasn't really  crazy about it.
Next, the sandwich. The amazing, super tasty sandwich. Now, was it so tasty because my soup wasn't really that good? Or was it tasty just on it's own? I'm going with the latter, because this sandwich is awesome! There was crisp and crunchy, slightly salty and flavorful flatbread with fresh lettuce, chicken and an orangey spread on the inside. The lettuce was crisp, the chicken was chewy, slightly salty and had a great pesto flavor to it. But what made the sandwich was the spread. It tasted like a hummus almost- kind of like a cheesy tomato flavored spread, that was slightly spicy and very flavorful. Just delicious.
Overall, the soup gets 2 1/2 stars, and the sandwich gets 4 1/2 stars. I wont get the soup again,  but I will certainly get the sandwich!
Whats your favorite spread to put on sandwiches?