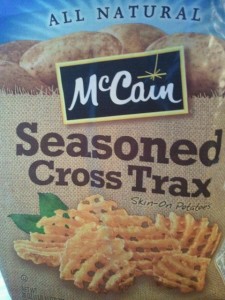 I spotted something new in my freezer this afternoon, something I haven't had in a while. French Fries! I decided to give these a try with some broccoli and vegetarian style chicken nuggets for dinner.
I cooked them up for about 15 minutes or so,
and here's how they looked once transferred to my plate.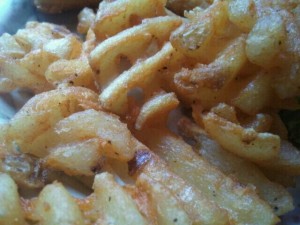 And a close up with a bite taken
As I stated before, these were certainly greasy, so napkins are recommended.  They cooked up nicely, with crispy edges and a potatoey filling. There was mostly a yummy potato flavor, with a kick of peppery flavor at the end. They really weren't that salty, despite the 470 mg of sodium per serving either. They actually really reminded me of curly fries that I used to get at school when I was younger, but these had more of a cripsy-ness to them.
The bag states they are "skin-on potatoes" but I'm not really sure exactly what that means, and they tasted like standard fries to me. I did like that the portion size was pretty good for 3 ounces, and I got a good amount of the fries filling up my plate. However, they were kind of lackluster for me. I would probably eat them again, but wouldn't go out of my way to buy them. 3 stars
Last day to enter this totally awesome giveaway!