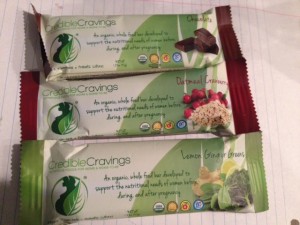 I have a new product to review!
CredibleCravings sent me a few of their organic whole food bars to try. According to the label, these bars are "developed to support the nutritional needs of women before, during, and after pregnancy". They are organic, have no GMOs, have probiotics, free of soy, and are made with no artificial sweeteners. And ALTHOUGH I am not pregnant… I could still use some whole goodness in my life!
The bars come in 3 flavors- Lemon Ginger Greens, Oatmeal Cranberry, and Chocolate. *Naturally* I tried the chocolate flavor first 🙂
The chocolate flavor is on the sweeter side, and has almost a raspberry flavor to it. It is dense, chewy and very moist, with chocolate chips scattered throughout the bar, and a prominent chocolate flavor. There is a slight crunch to it, probably from some of the added seeds. Some bites were a little on the sweet side, but it was very good! My favorite of the 3. 4 stars
Next, the Lemon Ginger Greens, was my least favorite of the 3. The flavor was okay. If I had a word to describe it, it would be "earthy". I could almost taste the kale or some type of green the bar was made with. The lemon flavor was definitely there, some bites more prominent than others. The bigger lemon flavor I detected, the better I liked the bar. The ginger was sort of an aftertaste, but it provided just a zing of flavor on the tongue. It was okay, but I wouldn't eat it again. However, I have had some "greens" types of bars and this is definitely one of the better ones. 2 1/2 stars
Lastly, Oatmeal Cranberry. This bar was good too! It was on the sweeter side, with a nice cranberry flavor. It had a little bit of tartness, but not too much, and just the perfect amount of sweetness to balance it out. The bar reminded me of oatmeal, and almost had a "hearty" texture to it from the oats and the crunch from the seeds. I enjoyed this one. I would eat it again. 4 stars
Here is a pic of the bars: Top= Chocolate, Middle= Oatmeal Cranberry, Bottom= Lemon Ginger Greens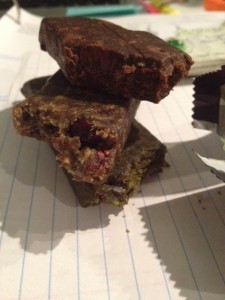 And the nutritional information: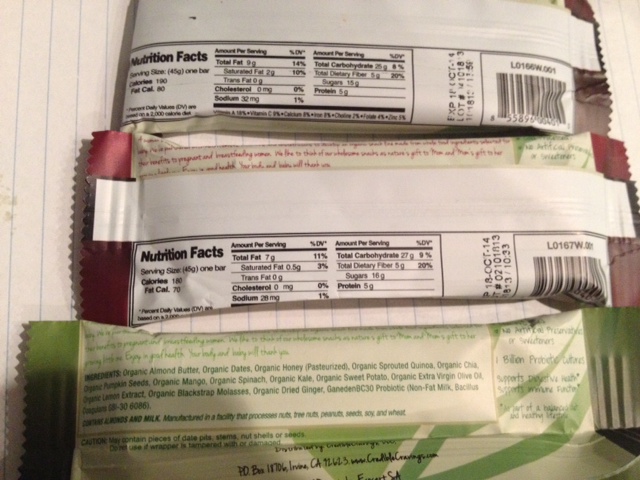 Thanks CredibleCravings!
Note: I received these bars for free. This is an unbiased review.