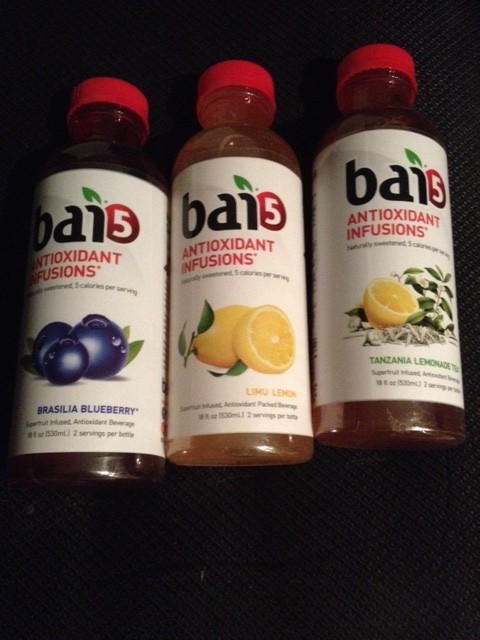 I received some free samples of the Bai 5 Antioxidant Infusions beverages, in 3 different flavors. I received Brasilia Bluberry, Limu Lemon, and Tanzania Lemonade Tea.
I must be honest, I feel like I have definitely seen these in stores before but never thought to buy them for whatever reason. But alas! Now I have no choice but to try them!
Each bottle is made with superfruit, or as the bottle says "the outside" of the coffee fruit…"coffee's secret superfruit". The company then "infuse[s] the antioxidant power of the superfruit, add[s] a splash of exotic fruit juices and voila! You have naturally sweetened, free-radical crushing Bai 5".
Each bottle I received has 35 mg of caffeine in it per serving, and 5 calories per serving, They are sweeteend naturally with organic stevia extract and erythritol.
First up, the Brasilia Blueberry. This one is very tasty. It tastes like you ate a handful of fresh blueberries and that sweet, fruity flavor is left in your mouth. It is sweet, and you could swear it is sweetened with sugar, but alas, it is not! However, it does not have any bitter flavor that stevia can sometimes provide, and leaves your mouth feeling refreshed. I REALLY like this one. I did this review at 8 pm and had to stop myself from guzzling the whole bottle from the caffeine unless I would be up all night! 4 1/2 stars
Next up.  Limu Lemon. This one had a strong scent of lemonade. Again, it was delicious. Tasted almost exactly like a fresh squeezed lemonade, and had just the right amount of tartness. It was sweet, but also irked on the more tart side. I like it because unlike lemon flavored drinks I have had, it did not leave a funky feeling in the back of my throat or on my tongue. Just pure refreshment. 4 stars
Lastly, the Tanzania Lemonade Tea. This one reminded me of those half & half products, where the beverage is half lemonade and half iced tea. It was sweet, and definitely had lemon/lemonade flavor to it, but also a bit of an iced tea flavor. I found it a little duller in sweetness than the other 2, but it was still rather enjoyable. 4 stars
Overall, bravo Bai 5!!! I really like these! If I see these in stores, I will definitely be picking some up. As a diabetic, it's hard to find "sugar free" alternatives that will not spike my blood sugar that actually taste good and not too chemically. Woo!!