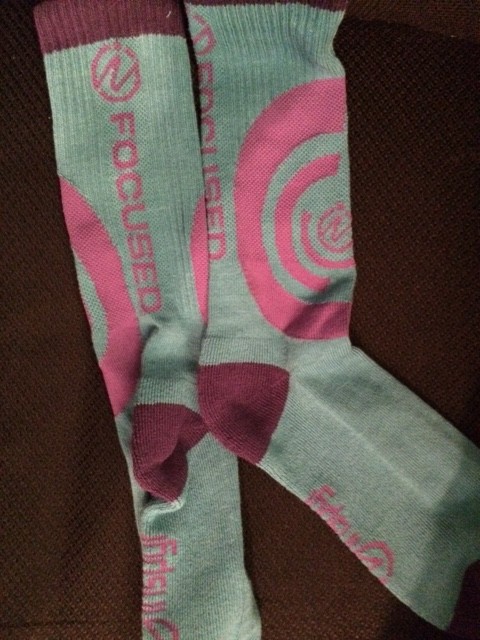 Alright! I got some awesome socks from a new company called Inspyr Socks.   If you peep the website, they are a company that sells motivating, affordable socks, geared toward the athletic community! I got this sweet purple and aqua pair that say  FOCUSED on the back. They have some really cute designs! Not that I need any more socks but… I will definitely order some in the future! (plus…who can ever really have enough socks??)
Check that calf development 8)  (shameless plug hehe)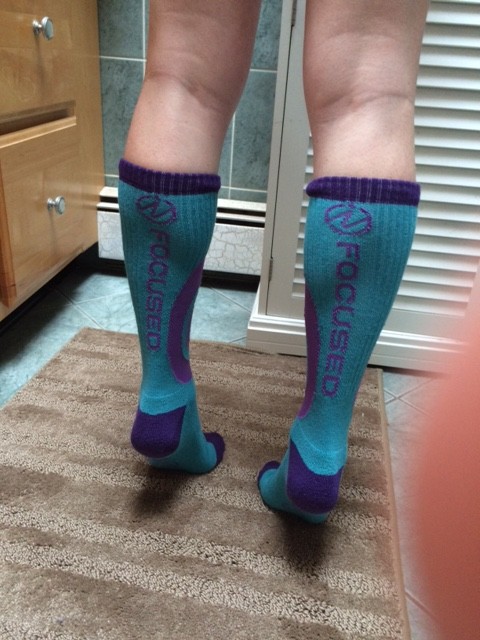 I LOVE LOVE LOVE wearing shorts and high socks to workout, especially on deadlift or leg day. Deadlift day is ideal, since the cushy socks usually help prevent bruising on the shins. I also like having the tightness on my calves when doing cardio or leg day, for a little bit of compression.
I ended up doing legs today with these on! They gave me ZERO problems in terms of comfort for my feet. I have some bumps on the edges of my feet, and super sensitive skin (thanks, Diabetes!), and these did not rub or anything with my sneakers on. They kept my feet relatively dry, only a little sweaty (it was LEG day after all!) and they were super soft and comfortable.
They are compression-like on the calf, which I liked, since I like having a big of tightness around my calf. Something to keep in mind though if you have rather large calves. I have little baby ones…but I am working on it!!
I liked the colors of these…bright! I love bright clothing for the gym, I like to break away from the all black and wear fun stuff. I also always get compliments on my outfits, and these socks I paired with  a pair of purple shorts and light blue tank top. Perfect gym outfit!
Overall, great product. An easy 4 1/2 stars. If you are interested in purchasing this pair, you can see them here!
Now…GIVEAWAY TIME!
you can enter to win a pair of socks from INSPYR! U.S. Only. Giveaway ends June 1st, 12 pm.
HOW TO ENTER:
1. like INSPYR on facebook. Please leave a comment saying you did so.
2. if you do NOT have facebook, leave me a comment below saying your favorite motivational quote.
3. For an additional entry, follow me on Instagram, lisa_liftsx . Please leave a comment that you did so!
I received this product for free. This is an unbiased review.