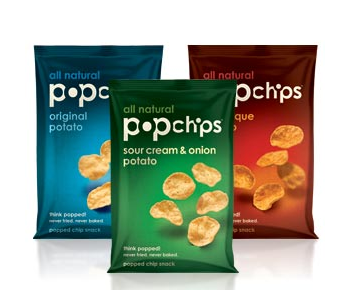 What are Popchips, you ask?
Aside from delicious, Popchips are chips, but they aren't fried or baked, but rather, according to the website, made with "wholesome potatoes, add a little heat and pressure, and pop! It's a chip". They are also relatively low in fat, are all natural, and come in 7 delicious flavors. They are the perfect compliment to your lunch, or eaten directly out of the bag. You can "pop" 😉 them in your purse and take them on the go with the conveinent 100 calorie bag portion too.
I was sent a few of the single serving bags courtesy of PopChips! company (thanks guys!).
Each chip is round and flat in shape, and has the consistency of a Lay's Potato Chip and a rice cake mixed together. They also have a nice CRUNCH to them which I really enjoyed. PERFECT for putting on a sandwich (like tuna or egg salad! Yum!). In the 100 calorie bag portion, you actually get a decent amount. Not like those "100 calorie packs" where you get, like, 4 of whatever you get. *cough cough* has anyone noticed you only get TWO or THREE "mini muffins" in the 100 calorie packs? What is up with THAT *cough cough*
Anyway- :D…without further a due, let's see how each flavor ranks up!
Original– I definietly like the original. Hits the spot when you craving strictly potato-ey flavors. There's also a good amount of salt on each chip, and really, what's a potato chip without some salty goodness? 🙂
Cheddar- oooh. These are good. It's a good cheddar cheese flavor, it sort of reminded me of macaroni & cheese rather than Cheetos cheese flavor. The cheese flavor isn't too strong, and you can definetely still taste potato flavors, but these are a really good alternative to some other cheezy snacks which leave fake orange residue on your fingers..But we'll save that rant for another day! 😉
Barbeque- Oh how I loooove Barebeque flavors! This was more of a sweet barbeque flavor, and I definietly tasted a smokey flavor mixed with a brown sugar/honey flavor. It has a wee bit of heat to it too, and left a little burn on my tongue. There was a strong onion/garlic/salty flavor that mixed nicely with the sweeter tastes. It was sort of like a transformation in my mouth- sweet at first bite, then the spice hits!
Sour Cream & Onion- Okay, Who took my PopChips! and replaced them with Lay's Sour Cream & Onion chips? They taste IDENTICAL- and that's a good thing!! These are my favorite (with the barbeque flavor) by far. Seriosuly- I bit into these, adn thought, where on earth is the fat? HOW is it so low? These are BURSTING with flavor, and have a nice onion/garlic taste with a wee bit of parsley. Just make sure you pop an altoid after eating these 😉
Sea Salt & Vinegar– I had some help with these. I'm not really a fan of vinegar, I don't even like the smell when we dye eggs at Easter. So, I went to my aunt,  and she gave them two thumbs up. I tried one and I thought they were very salty with a very strong, bitter vinegar flavor. But hey, if that's your style, go for it!
Overall, 4 stars. These are really good, and I'll definitely buy them again. I'll also feel less guilty serving these at parties rather than Doritos or Lay's because they are all natural, lower in fat than other chips, and don't have any trans fats. I also like how the portion size is almost double of a normal portion for chips. You get about 20 instead of the typical 10-11 chips per serving, and for a few less calories!
1 oz of each flavor (about 19-20 chips) is around 120 calories, 4 grams of fat, 20 carbohydrates, 1 gram of fiber, and 2 grams of protein.
Each flavor is made with all natural ingredients. The following is just for the original. If you'd like to see all the flavors, click here.
Natural Potato Ingredients (potato flour, potato starch), Safflower Oil and/or Sunflower Oil, Rice Flour, Sea Salt, Soy Lecithin.