SAHALE SNACKS GIVEAWAY ends tomorow!!!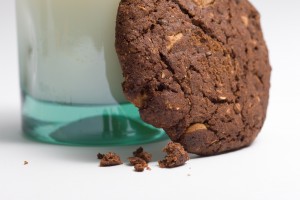 Penny's Low Fat Desserts' opening statement about the Chocolate Peanut Butter Cookie is "Chocolate peanut butter—what a combo", and I couldn't agree more. Really, what's better than that classic peanut butter and chocolate combination? I know it's certainly one of my favorites! So how about when that combination is transformed into… a cookie! And, a low fat, sweet and all natural cookie, too!
Penny's Low Fat Desserts sent me the Chocolate Peanut Butter Cookie to try, and I sure am glad they did! It was a rather large cookie, dark in color, with visible pieces of oats. I was super excited to try it- I just finished my lunch, and wanted  something sweet to finish the meal. Where else to turn but this yummy treat ?
I took a bite, and was actually surprised. It tasted like a brownie! A soft, fudgy, and moist brownie! The oats were chewy, and added texture, as they had that bite to it that oats have before I use them to make home-made oatmeal. There were little chocolate chips that were slightly crunchy and sweet, and made this a real treat. Of course, the best part was the peanut butter chips. Oh, sooooo good! I wish there were more peanut butter chips, as they really added a great touch.
What I also liked about this cookie, is that it was sweet, but not too sweet. It also has 7 grams of fiber per 1.8 ounce cookie! Overall, 4 stars. =)
One 1.8 ounce cookie is 150 calories, 3 grams of fat, 38 grams of carbohydrates, 7 grams of fiber, 18 grams of sugar, and 3 grams of protein.