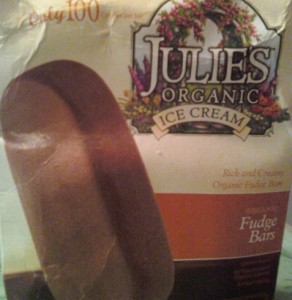 Ok, I'll admit it. Even if it's snowing and 4 degrees outside, I'll be up to eating frozen yogurt. The weather doesn't phase me when we're talking about delicious frozen treats!
So to add to my random "I think I'll have something frozen even though it's freezing outside" list of foods, how about the Organic Fudge Bars from Julie's Organic Ice Cream?
I picked up this box of 4 fudge bars at the grocery store,  I believe it was Whole Foods, with a coupon Julie's Organic Ice Cream sent me for a free product. Why did I pick fudge bars? Honestly, I don't know. It was a spur of the moment sorta thing.
Each bar is only 100 calories, is organic, and is decently sized (59 grams). I opened up my bar and took a bite. It was soft, with a dark chocolate slightly bitter taste, was mildly sweet, and pretty good. Honestly, if you have ever had a fudge bar before, this pretty much tastes like how they all taste. No funky aftertastes, not too sweet, not too chocolatey, just a light tasting, fudge bar.
Overall, I give it 3 1/2 stars. I like that it was organic and portioned for only 100 calories. But I wasn't thrilled with the product, and I would have actually liked it to be a bit sweeter. However, if you are a fan of fudge bars, I don't think that this will disappoint 🙂
1 bar is 100 calories, 4.5 grams of fat (2.5 saturated), 14 grams of carbohydrates, 12 grams of sugar, ad 2 grams of protein.