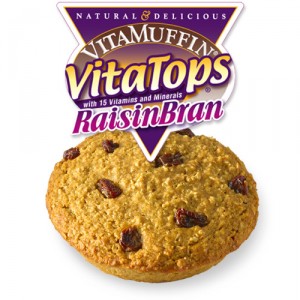 Who likes muffins? Or rather, who likes the tops of muffins (aka the best part in my opinion!)
Well, today's review is the Raisin Bran VitaTop from Vitalicious. I  happen to like a few of the Vitalicious products that I already reviewed, including one of my favorites the Cran Bran VitaTop. What's also cool about these VitaTops? They are a good source of fiber, and are only 100 calories!
So I opened up my Raisin Bran VitaTop( which was in the freezer and then I defrosted it) and looked at it. It seemed as if there weren't a lot of raisins, maybe about 5 or 6, and it had a brown color and a somewhat bumpy texture. I took a bite and was surprised in 2 ways.
1- The first bite of my VitaTop was dry. I don't know if it was because it was in the freezer, and maybe just that part of the muffin lost some moisture, but it was dryyyyy.
2- There were actually more raisins then I thought, scattered throughout the VitaTop and not just on top, and they were actually quite good, and quite sweet.
So, I gave it a few more bites. Not as dry as the first bite, so perhaps just that part of the VitaTop was dry, and the rest wasn't as much. It sort of had the same flavor as the Cran Bran VitaTop, which was a toasted flavor and a bumpy texture. The raisins added a nice touch with some sweetness, and overall the VitaTop was kind of chewy.
Overall, 3 1/2 stars. Not my favorite VitaTop, but still pretty good. I love that it has 5 grams of fiber and 100 calories as well!
1 VitaTop is 100 calories, 1 gram of fat, 22 grams of carbohydrates, 5 grams of fiber, 11 grams of sugar and 4 grams of protein.
What's Your Favorite Flavor/Variety of Muffins? Please leave me a comment below! : )
*I was sent this vita top to try for free from Vitalicious*