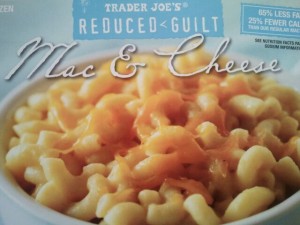 Dinner time rolled around the other night, and I only had one thing on my mind. Mac. &. Cheese. What better a time to try out something new for me that I bought at Trader Joe's? The Reduced Guilt Mac & Cheese. Not only does it look awesome on the box, it was completely awesome in general. For instance, here's how this delicious-ness came out of the microwave….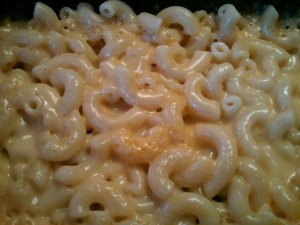 It even smelled good. So cheesy!
Although I was slightly disappointed at the fact there wasn't a larger portion of mac & cheese, there was a decent amount. I rounded off the meal with some veggies (any guesses? Yea, it was broccoli…), and ate.
At first bite, I was impressed. It certainly was cheesy, but had that clumpy, "baked macaroni & cheese" flavor and consistency, with crispy edges on the outside of the carton. The noodles were chewy and slightly firm, but still quite tender. It also tasted surprisingly salty. There was 540 mg of sodium in this entree, which I don't think is that high, but it in fact, did taste pretty salty!
Overall, 4 1/2 stars. Why not 5 stars? Well, it was relatively low in fiber, only 1 star, and wasn't made with whole grain noodles, which I prefer over regular wheat. But still very tasty, and I would certainly get it again!
1 container is 270 calories, 6 grams of fat, 40 grams of carbohydrates, 1 gram of fiber, 4 grams of sugar and 15 grams of protein.
What's your favorite brand of macaroni & cheese? This may certainly be one of my new favorites!