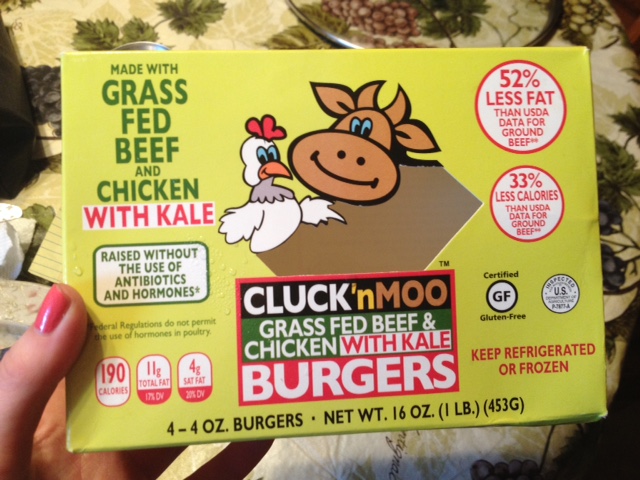 Alright! So I already did a review of the original Cluck'nMOO burgers, which you can view here, and I absolutely loved them. So the company approached me and asked if I wanted to try their new  burgers, made with Kale, so I happily obliged.
I cooked these babies up with some broccoli on the side, and some cheese on top. They were relatively easy to cook- I defrosted them first in the refrigerator, and then pan-fried them over medium heat with a little nonstick spray. They were super juicy when I cut into them to see if they were done- juices literally poured out all over the pan. I had to remember, I could NOT eat these "a little pink" because they were made with chicken, not just beef, and raw chicken is a big no no!
Here is them all cooked up! You can see the tiny pieces of green kale on the burger with no cheese. (except that giant green blob on the bottom…that's a piece of broccoli, hah!)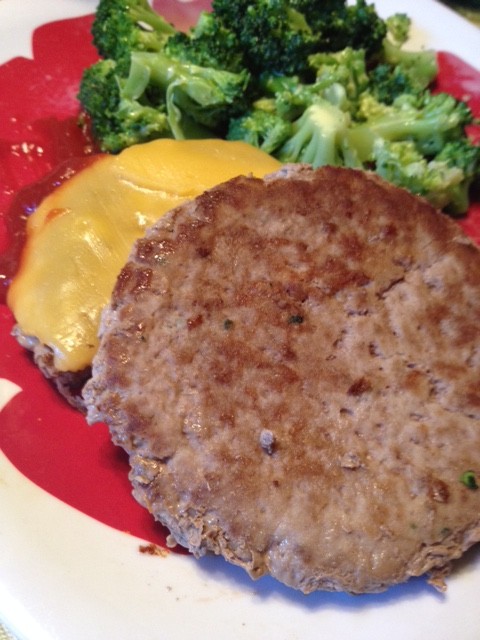 And here is a close up of it cut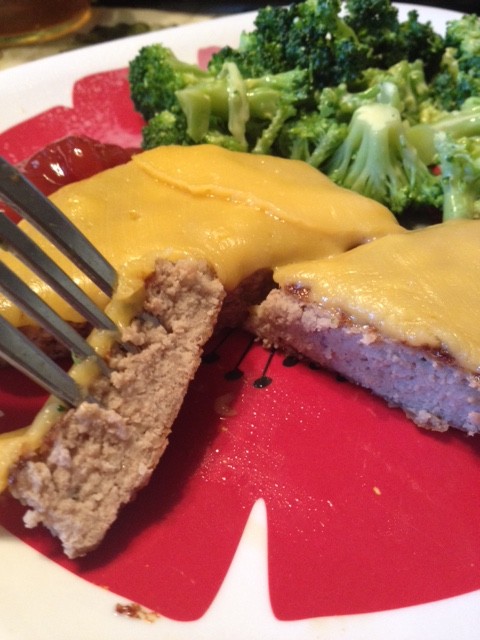 The kale is relatively undetectable in the burger.  This can be seen 1 of 2 ways. A positive, if you don't like vegetables, but want to eat vegetables in the form of meat (haha). A negative, if you really wanted the taste of kale to be present. The color dissipates as you cook it, so only a few green specs were shown on the cooked burger.
HOWEVER, the burger is still awesome. Super juicy, tender, and flavorful. It tasted like a 90% lean hamburger (or cheeseburger…). The chicken flavor I thought was not really detected, but in my opinion was still a good thing, since it lowered the fat and calories of the burger, since beef is relatively fatty if you want it to be flavorful/juicy.  There is 11 grams of fat, 4 saturated, and 190 calories per burger. I easily ate 2, one with cheese, one without, with some low sugar ketchup (I'm a diabetic), and a big side of broccoli with a smear of butter, and called it dinner! Delish! 4.5 stars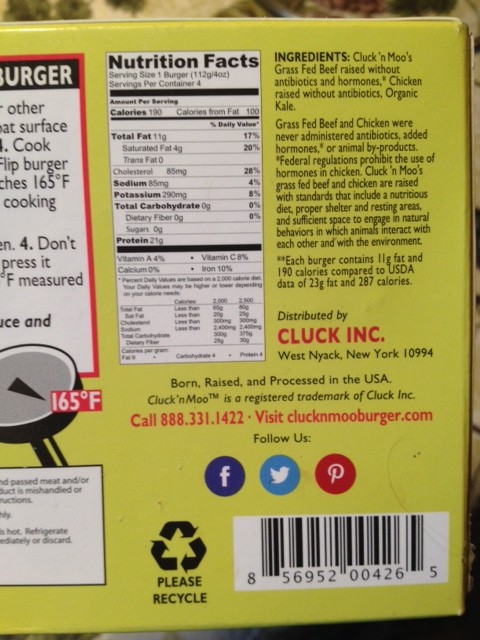 I received these burgers for free from the company. This is a sponsored post. In no way, shape or form are my thoughts altered. This review is 100% unbiased.