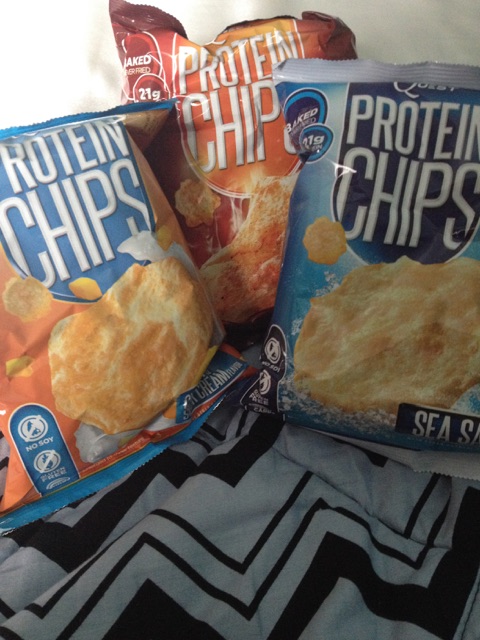 Quest Nutrition Protein Chips!
I know, I know, I am a little behind on these, and while I did  get samples a little while ago my schedule is so tight I did not have a chance to post this until now.
SO,
Here we go!
I got 1 bag of 3 different flavors to try for free from Quest. I got the BBQ, Cheddar & Sour Cream, and Sea Salt flavors to try.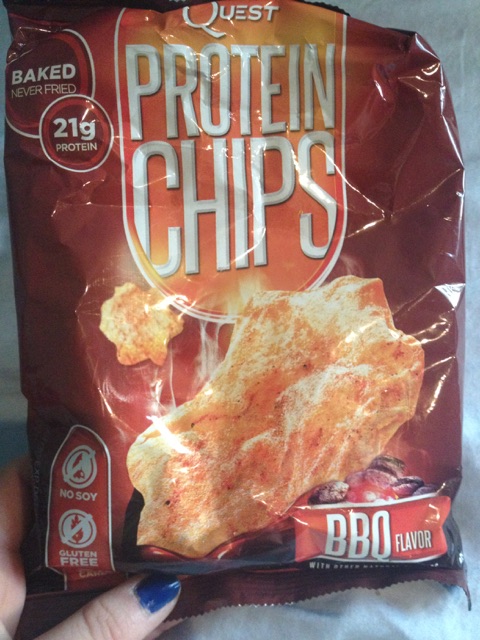 These chips are made without soy, and are gluten free. They are baked, not fried, according to the bag, and have roughly 21g of protein per serving with ~5 g of carbohydrates. They do not have any fiber in them, and are relatively low in fat. For example, the sea salt flavor had 1.5 grams of fat per bag.
One serving gives you a decent amount of chips, but they are flaky and airy, and a lot of the chips end up being very piecey and on the bottom of the bag. For example, I packed a bag for lunch one day and ended up eating entirely crumbs during class. Not super convenient! First up, the Sea Salt.
These were pretty good. The chips were half and half, were some would have a good amount of yummy salt flavor, and others would be on the blander side. The chips were piecey via mouth feel- they had this dried potato flavor to them but a rather strong undertone of whey protein flavor. They were dry, and brittle, and broke apart easily while chewing.
Next up, the BBQ flavor. Here's a sneak peak.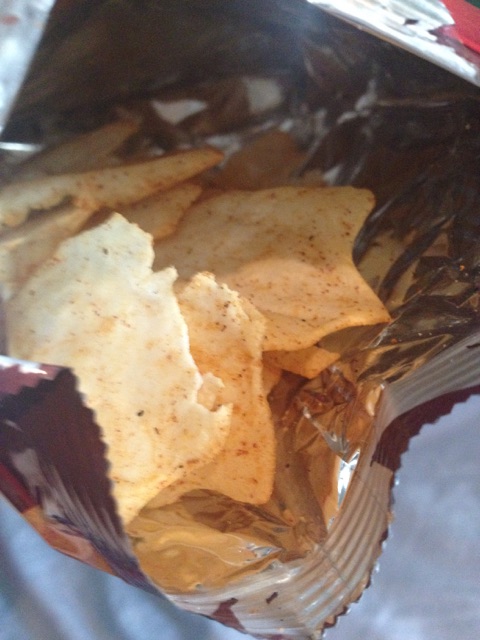 This bag wasn't as damaged as my other two got during travel, so I got a shot of the chips as whole pieces not crumbs. The BBQ ones had a mild BBQ flavor, standard flavoring like most BBQ chips, but definitely not as strong. No flavor in the BBQ seasoning stuck out in particular. They had a nice crunch, and were not too salty, which was nice. I wish the flavor was a bit stronger. What happened was I would eat the chip, the seasoning would come off, and then it would taste like a plain chip within a few seconds of being in my mouth- that dried potato + whey flavor. It was doable for a snack ,but not my favorite.
Lastly, the Sour Cream and Cheddar. This had the same type of issue the BBQ one did. The flavors were good, mild, but good, but the seasoning came off so easily that it was as if they got sprinkled with seasoning after they were already baked. I wish it had some flavor throughout the chip. I definitely tasted cheddar flavors, can't say I saw where the sour cream component was coming from. This bag I took with me to class and was the bag I ended up eating almost entirely in pieces, but I was hungry so it was still manageble.
Overall, to be honest, a disappointment from me! I expected better, seeing as I am in love with Quest Bars. I ended up buying a case of the sour cream  & cheddar after receiving my samples to try out of excitement, sure I would like them, and let's just say I already ordered Quest Bars almost biweekly and I still have 2-3 bags of the chips left waiting to be eaten.
I probably won't buy them again in the future, I really wasn't that impressed with these. I can see them as a livesaver for someone who is on a strict diet and needs a "cheat", because it is crunchy and has mild but good flavor, but it doesn't beat out the quest bars. Also, there is no fiber in the chips, so they left me hungry where as a Quest Bar was much more fulfilling.  However, I did enjoy the fact they were only 5 grams of carbohydrates. Always down for low carb snacks being a diabetic. Overall, 2  stars
1 serving (Sea Salt) = 120 calories, 1.5 grams fat (0 saturated), 190 mg sodium, 5 grams of carbohydrate, 0 grams fiber, 0 grams sugar, 21 grams protein.
Ingredients (Sea Salt- from bag): Protein blend (milk protein isolate, whey protein isolate), dried potatoes, corn starch, high oleic sunflower oil. Contains less than 2% of the following: Sea Salt, Calcium Carbonate, Natural Flavors.