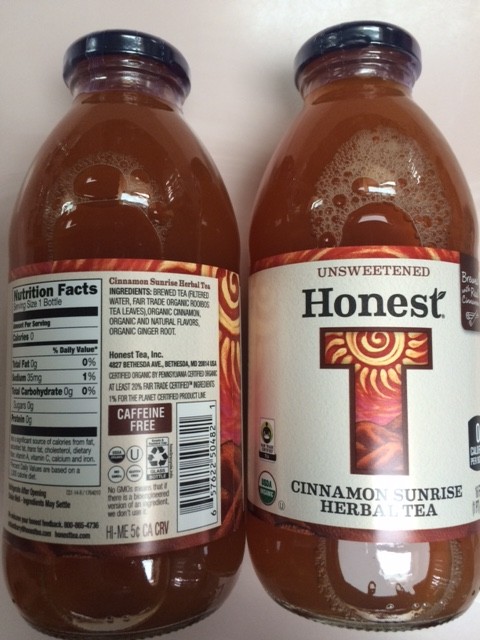 Howdy 🙂
The nice folks over at Honest Tea sent me a case of their new Cinnamon Sunrise Herbal Tea to try! I am not a huge tea drinker, but if I do drink it, it's always iced. So I was excited to try this, as I thought it would be a new experience.
The Cinnamon Sunrise Herbal Tea is unsweetened, caffeine free,  and 0 calories per serving. It is also certified Organic, and Fair Trade Certified as well.  The ingredients are pretty short…just tea, rooibos tea leaves, cinnamon, and ginger root, amongst some natural flavors.
When you open the bottle, you can smell the cinnamon. It doesn't give off a "red hot" cinnamon aroma, but more of an "apple pie" cinnamon smell. In fact…this literally kind of smells like apple pie in a bottle 🙂
The tea itself is actually quite yummy. It has a light cinnamon flavor, and light natural sweetness to it.  It leaves the flavor of cinnamon lingering in your mouth, but isn't overpowering.
I tried it over ice and added a splenda to it, since the ice tends to water down the flavor. Honestly…amazing. Almost like apple pie in a bottle with cinnamon flavor. I would 100% buy this if I saw in stores.  4 1/2 stars
GIVEAWAY!!!!
You can win a case of the Honest Tea Cinnamon Sunrise Herbal Tea! Open to US only.
HOW TO ENTER:
1. Leave me a comment below stating your favorite flavor of tea!
2. [optional, but extra entry ]Tweet about this giveaway with the link, and mention me " @ liisa_tee"
3. [optional, but extra entry]Follow me on instagram for reviews! @lisa_liftsx
PLEASE leave me a comment for EACH thing you do, as each is 1 entry! More entries= more chances to win 🙂
Giveaway CLOSES on July 13th, 12 pm.
I received this product for free. This is an unbiased review.