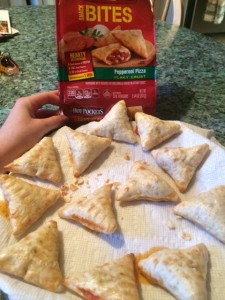 Hot Pockets sent me some yummy goodies! I got some coupons to try complimentary new Hot Pocket Snack Bites, and saw these 2 at my local Stop n Shop. Pepperoni Pizza and Ham and Cheese.
These are perfect since Halloween is right around the corner, and they are filled with yummy protein and carbs to fill you and your kids up before a night of trick or treating! Also they are cooked in roughly over a minute per 4 bites. Quick, yummy, and easy!
Here is the Pepperoni Pizza up close. They didn't ooze out the sides like I am used to with a Hot Pocket (there's always a LITTLE bit of filling that comes out!)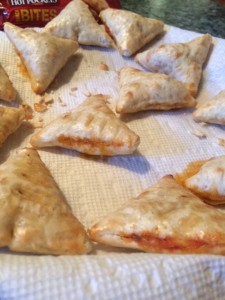 The Pepperoni Pizza ones were pretty good. They lacked on the pepperoni flavor, but I certainly tasted the sauce and cheese. They were a little doughy, and I feel the filling to dough ratio was a little off, and wished there was more filling. They weren't super salty or anything, but tasty none the less. A good little carby snack, great for kids after school, because a 4 piece serving is perfect.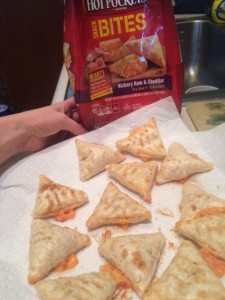 Next up, the Ham and Cheese. These were a little doughy as well, and needed a tad more filling BUT they were more full than the other flavor. I wish the crust was a little more buttery or toasted in flavor, as it felt a bit undercooked in terms of flavor. They weren't super salty, and I actually really liked this flavor. The ham had good flavor, like a cold cut, and it tasted like american or cheddar cheese.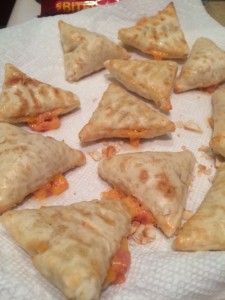 a 4 piece serving (Pepperoni Pizza) is 210 calories, 8 grams of fat, 27 grams of carbs, and 7 grams of protein. They are not loaded with protein, but these snacks will fill you up. I had two to try them out, and was pleased with the size. The sodium is roughly 330 mg per 4 bites, which is high but not horrible for a frozen food.
Without a coupon, these were roughly 3-5$ (depending on the store) which is a little expensive. I got them for a little over 3 dollars, but bought them again and they were 4.99$.  You get 3 servings out of them, which is good for 3 small kids, or one hungry older brother (ahem…my older brother).
Overall, 4 stars.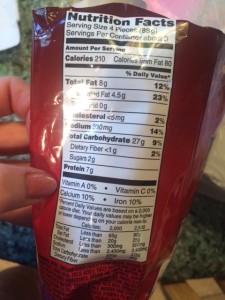 I received this product free of charge. This is an unbiased review.