Mmmm oatmeal!!! Who doesn't love a nice bowl of oats? Even though "winter" by me is unseasonably warm, I still could go for a nice bowl of oatmeal any day!
Modern Oats sent me some samples to try for free of their on the go, individually portioned and flavored oatmeals.  I got 6 flavors- 5 Berry, Nuts and Seeds, Apple Walnut, Goji Blueberry, Chocolate Cherry and Mango Blackberry. All of these sounded exquisite!!
All flavors are Gluten and GMO free, Vegan, and bursting with whole grain goodness.
I was most excited about the Apple Walnut, so I decided to try that first.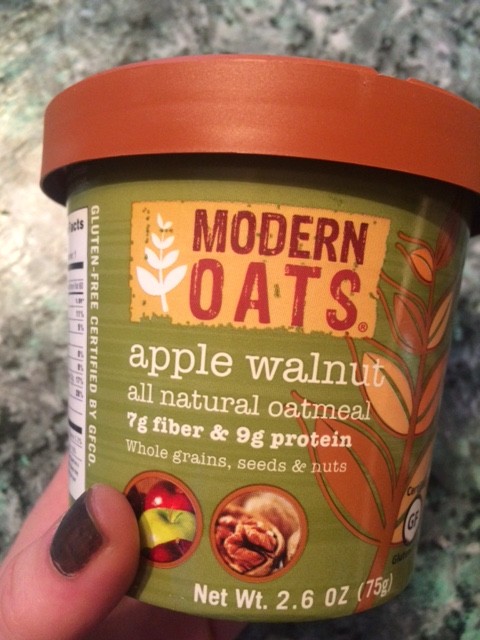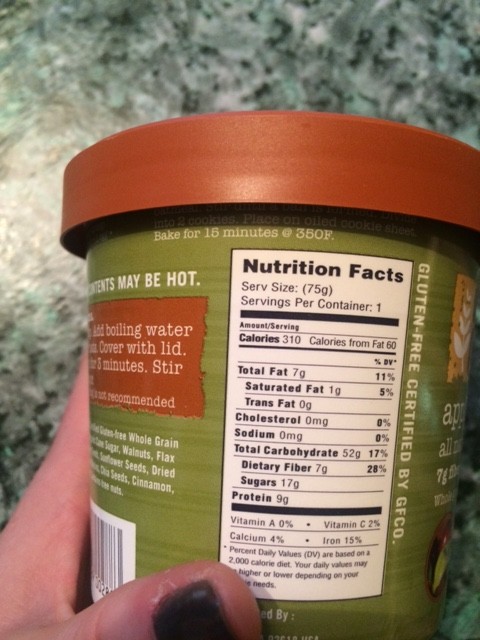 Here is a pic of it before I added the boiling water: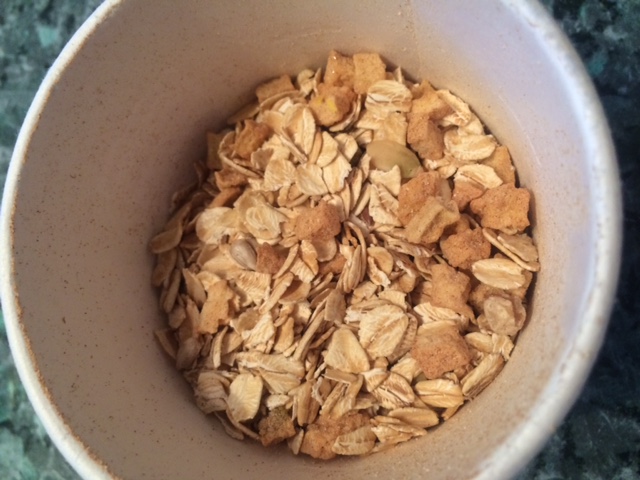 And here is a picture of the oatmeal after I left the cover sit on it for 2-3 minutes as directed: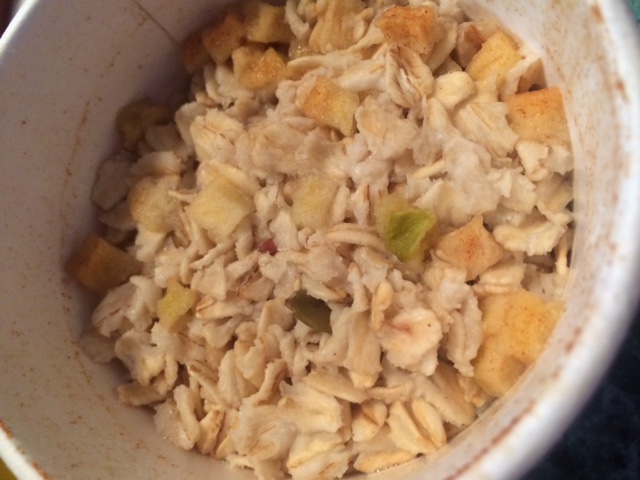 How did it taste? Honestly, for 17 grams of sugar, the sweetness was lacking. It was very lightly sweetened, mostly from the baby apples. The brown sugar seemed to stay at the bottom even though I mixed it. It was chewy, and I think it needed a bit more water than recommended. Once stirred, more brown sugar came to the surface, as well as raisins, which provided some sweetness, and some pumpkin and sunflower seeds. There was a mild walnut flavor, but needed more. However, I did like it. 3 1/2 stars
Next up, Mango Blackberry.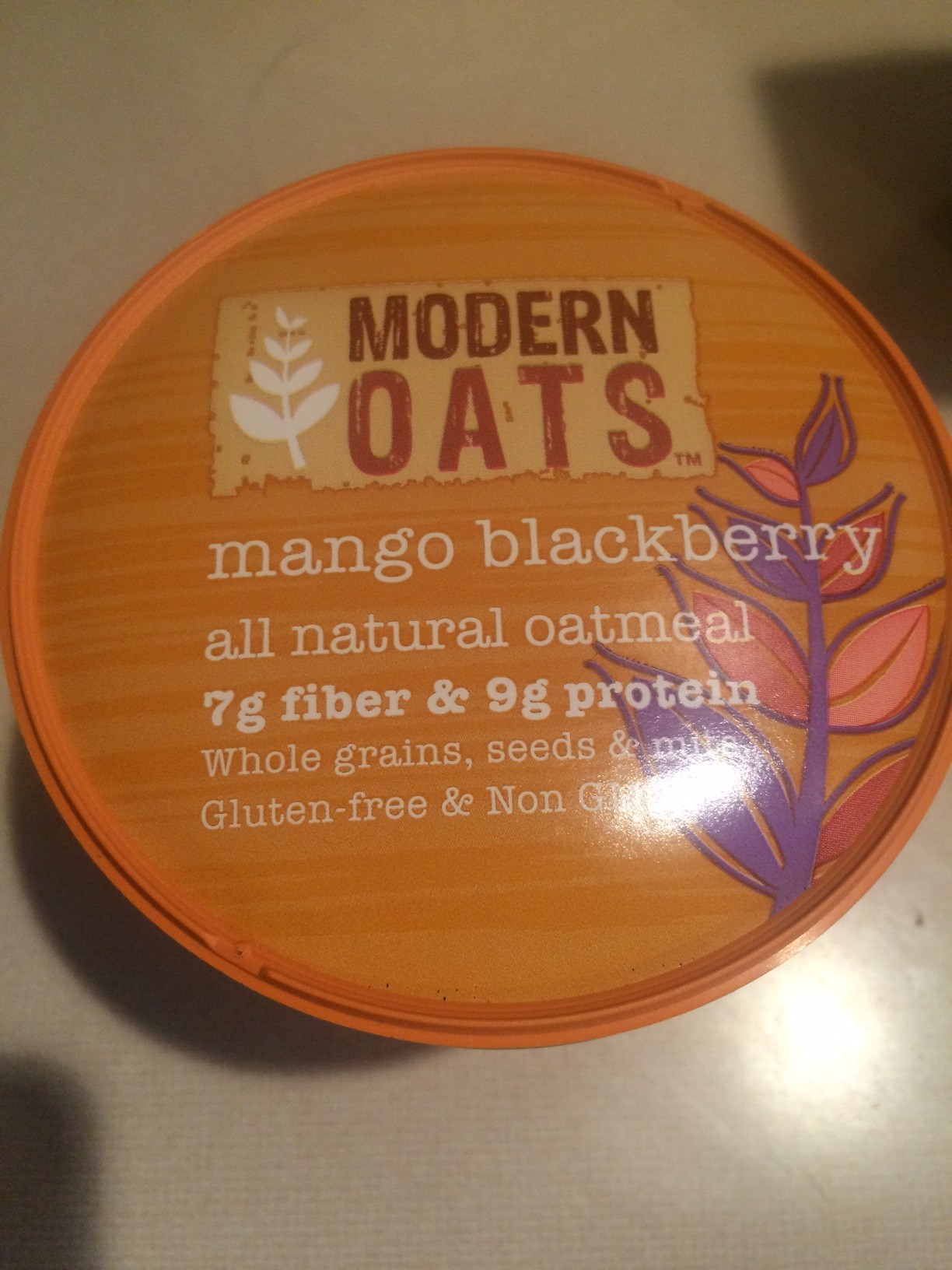 This one I added more water to, and I think it worked well, as it was creamier. However, this one was kind of bland. It tasted like lightly sweetened plain oatmeal. The mango flavor was lacking, and the mango that was in there was not sweet. There was only one blackberry in the whole cup. The sweetness was very mild, and flavor was lacking. 2 1/2 stars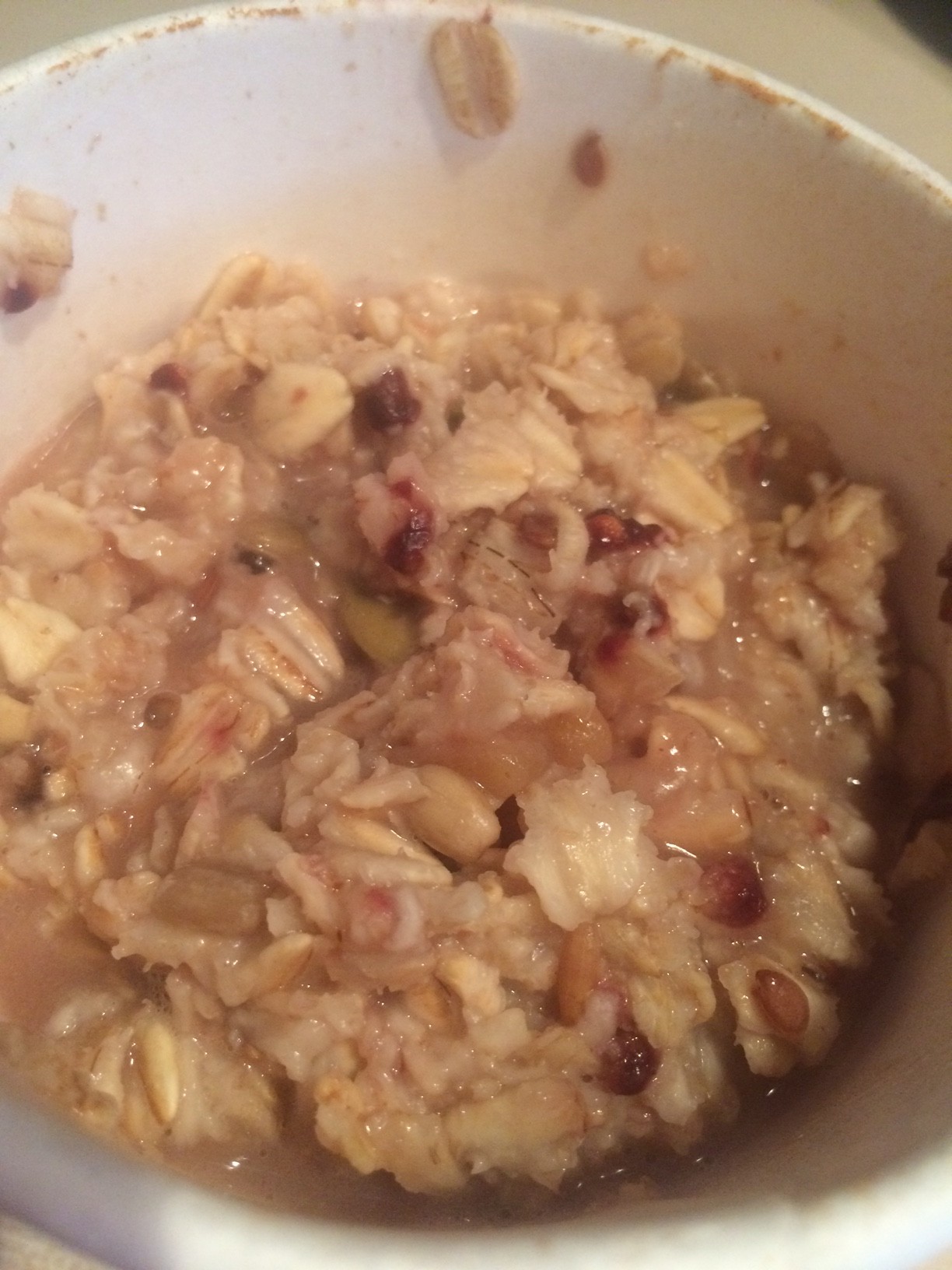 Next up, Chocolate Cherry.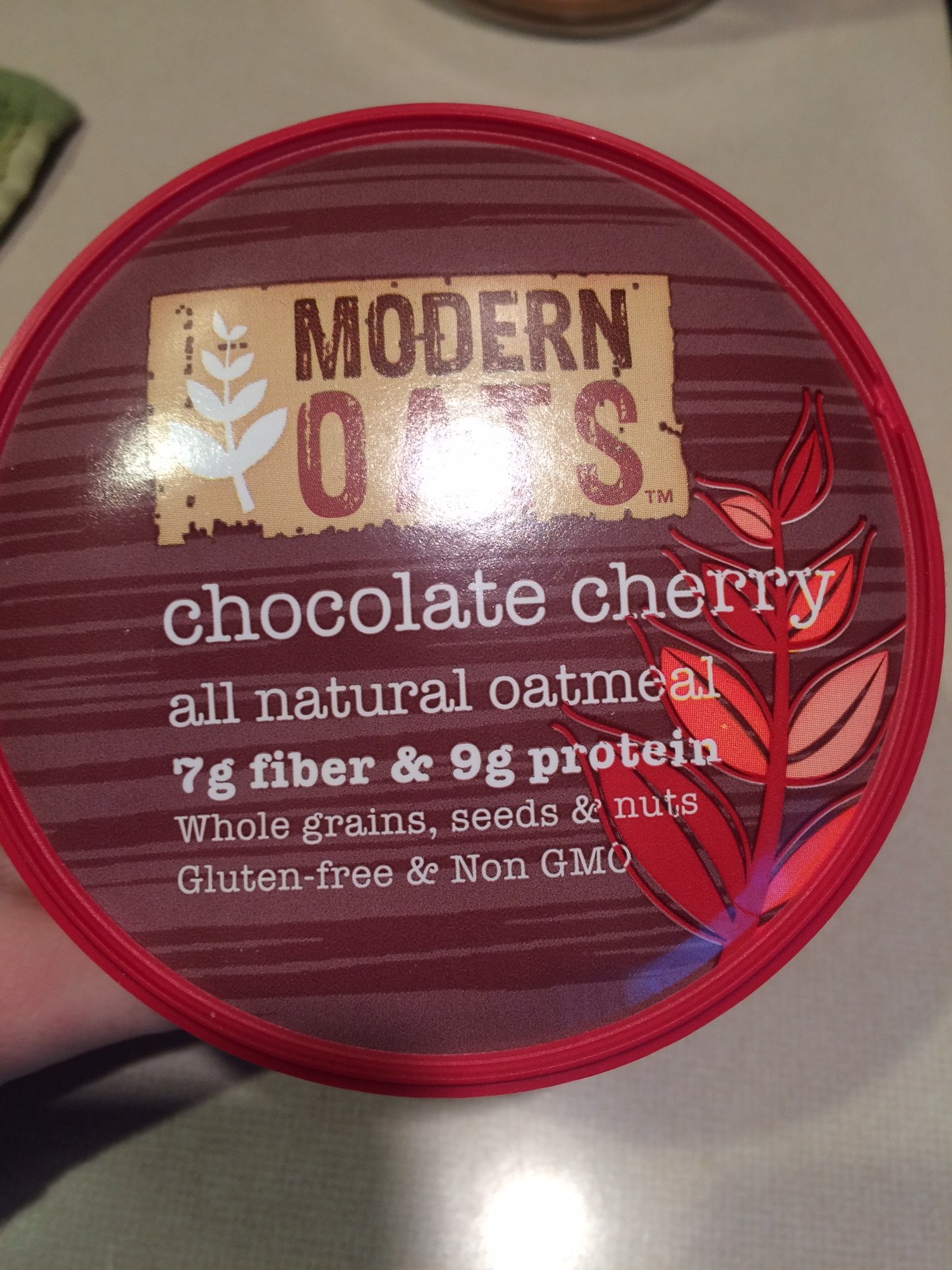 This one I added a WEE bit too much water too. However, I did not like this one regardless. It just did not taste good. The chocolate flavor didn't seem to fit, was too bitter, and needed sweetness. There was a few cherries, which were good, but too little. There was some nuts which were good, but the chocolate overall ruined the cup. 2 stars.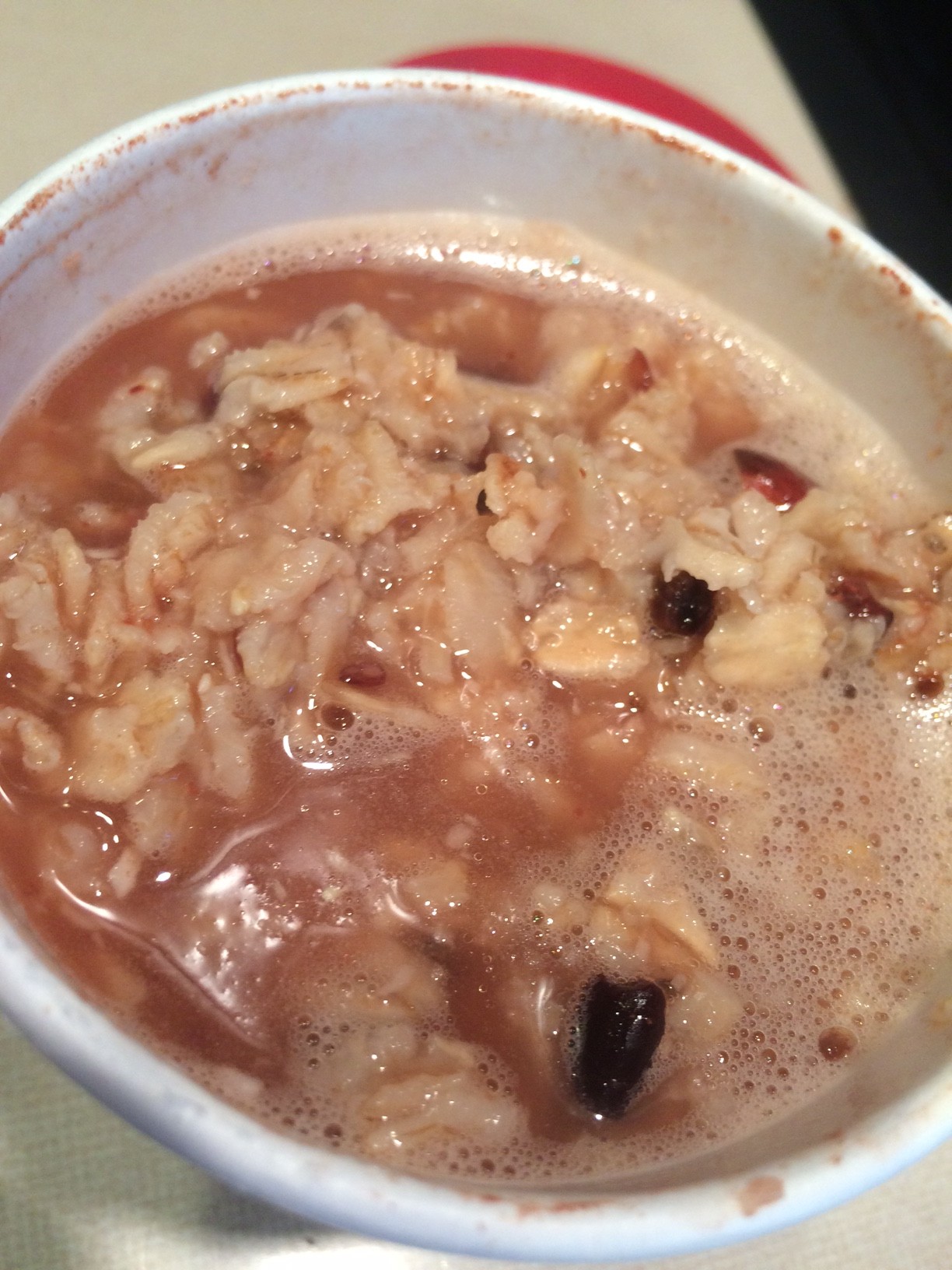 Next up, 5 Berry. Unfortunately, I lost the pictures of the last 3, but nutritional information and appearance was generally the same.
This one had a light sweetness, and some crunch from sunflower seeds and nuts. There was a mild tart flavor from the berry, which had cranberry, strawberry and raspberry flavor. I liked this one! 3 1/2.
NEXT up… Nuts and Seeds. This one I predicted to like the least but was pleasantly surprised. There was a great texture from all the crunchy nuts and seeds and soft cooked oats. There was a slight taste of cinnamon, and again, it was slightly sweetened. I really enjoyed the pumpkin and sunflower seeds, and liked how they stayed crunchy. 4 star
Lastly, Goji Blueberry. Again, lightly sweetened (seems to be a theme here), with a tiny crunch from sunflower seeds. I did not taste the blueberry really, and it was majorly lacking. There was a small berry in the oatmeal every now and then, but without flavor. The goji also did not provide much flavor. I think this would have been better sweeter. 3 stars
Overall, the oatmeals were good, but needed improvement. The flavors are there, but lack something to bring out the sweetness. Perhaps some spices or salt would help the sweet flavors come out to play. They are good if you are used to a "natural" palate, but you will be a tad disappointed if you are used to the generic super sweetened oatmeal. However, they were all easy to prepare, and a good portion to stay satisfied.
I received this product to try for free from the company. This is an unbiased review.