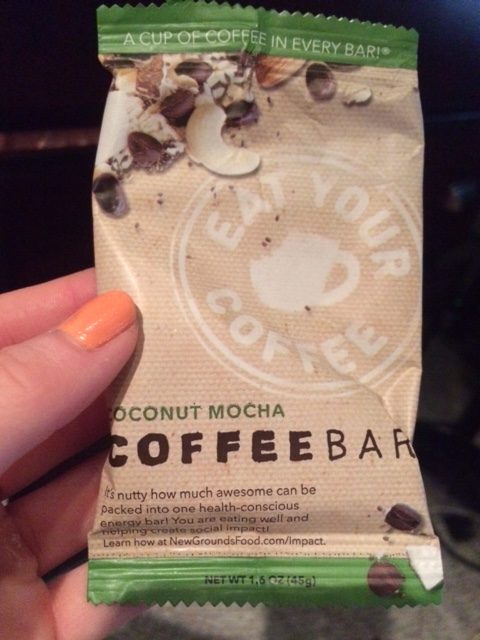 Do you like coffee for the taste, or the caffeine? What if you like both? Then I have a treat for you! New Grounds Food has come out with a product called Eat Your Coffee , Coffee Bar which comes in Coconut Mocha and Caramel Macchiato flavors. There is 1 cup of coffee in each bar, and each bar is also made with fair trade coffee, is vegan and gluten free, and organic!
Let's get started!
Caramel Macchiato
This one has a bit of a bitter and strong coffee flavor. Most of the sweetness comes from the dates, and the date taste is prominent. The caramel flavor is lacking. There are some dark chocolate chips which are smooth and sweet, and very good. The texture is chewy and a bit dense, and somewhat "grainy". It's pretty good.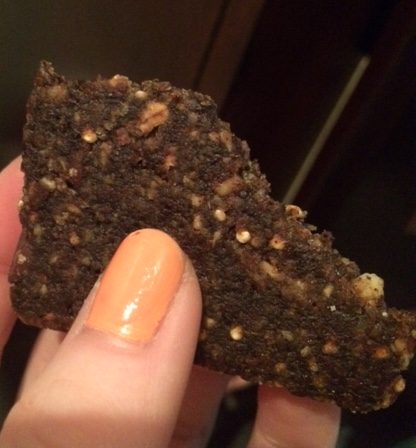 Coconut Mocha
This one is dense and chewy, and has a date flavor. Again, there are a lot of little seeds and nuts scattered in the bar, which some of I believe is Quinoa. The Coconut flavor is on the mild side. The bar has baby chocolate chips or something of the sort scattered in the bar, which add a nice touch. The bar is on the sweet side, but not overpoweringly so. I actually really enjoyed this one!
Overall, I like the bars. They have similar tastes, so I would give them a 3.5 star rating each. I think they are a good idea for a pick me up at work, or a good way to get some caffeine in, especially if you suffer from heartburn. Coffee is a KILLER sometimes to me, but I drink it anyway (and suffer…LOL) because I want the caffeine. I would comment that the sugar and carbohydrate content are a bit high for a small bar (about 10 grams of sugar –mostly from dates– and 32 grams of carbs), so I also think it would be a great pre-workout snack. Natural sugars, carbohydrates, and caffeine!
I received these bars for free. This is an unbiased review.