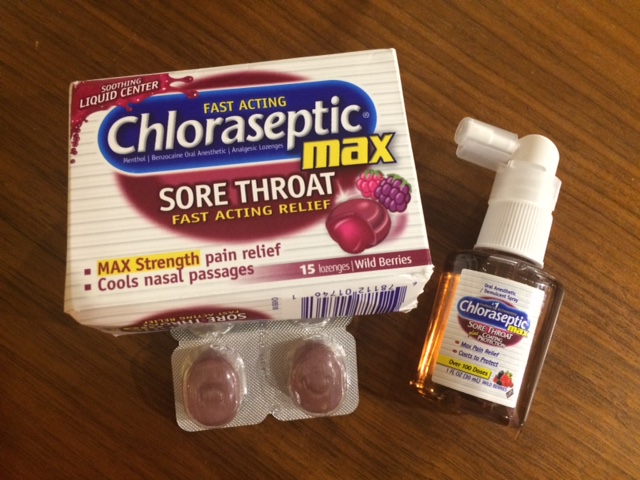 One could argue that a sore throat is among one of the worst symptoms of a cold (right next to a stuffy nose), and with winter here (almost), the colds are coming!!!
Well, they are already here. You hear the coughs in the background, on the subway, in the gym, in the classroom. It's inevitable you will get a cold, unless you have some secret in which, please let a girl know 🙂
Chloraseptic has provided me with 2 sore throat relief products, The Fast Acting Lozenges, and the Sore Throat plus Coating Protection Max Strength relief spray.
The Fast Acting Lozenges are in wild berry flavor, and have a soothing liquid center. They contain benzocaine and menthol as means to "numb" and soothe the throat as well as oral mucosa/pathways. They are of a decent size, and you have to suck on the lozenge a decent amount of time before the liquid center opens up and releases. The lozenges are mild in flavor, and not overly mentholated. As you picked up from my last post, I can't stand the taste of menthol! However, these are tolerable for the menthol, and they do really help.
I got a minor cold a week ago and used these every couple of hours to soothe that annoying, scratchiness. The effect lasts a bit after finishing the drop as well. The liquid center is like a menthol burst, and has even stronger potency.
The Sore Throat spray however, is NOT my thing. I found it awkward to put in my mouth and try to spray down my throat, and I missed several times, just getting the back of my tongue. The taste is also very chemical like. It does leave a coating and prevents some of the soreness, but to me I wouldn't buy this in the future because I just don't enjoy this type of product. It contains Phenol and glycerin (as a coating) as active ingredients. Effective? yes. Easy to use? Eh.  To be honest it depends on your preference. And, with most things, DO NOT SHARE THIS— germs!
Overall, I like that Chloraseptic has a few options for sore throat relief. I way prefer the drops over the spray, and would buy those in the future for the next time I have a nasty cold (which we all know will happen). The spray is really dependent on if you like that sort of "numbing" and can apply it easily, but not my cup of tea.
Note: I received these products for free. This is an unbiased review.
*** giveaway winner was chosen. Please check your email!***