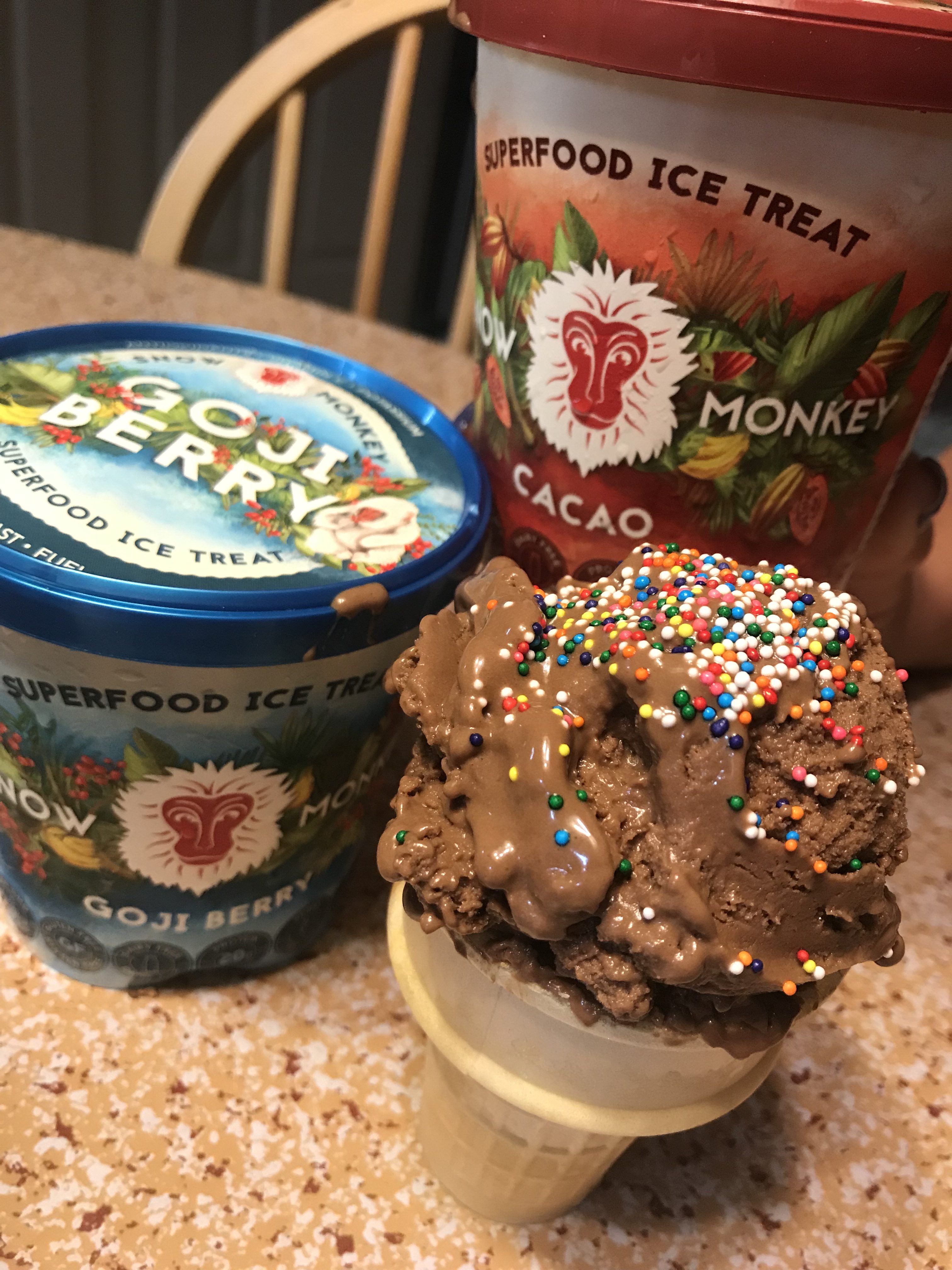 With low calorie/ light Frozen treats "ice cream" with a bit of protein being a current hit with not only my fellow fitness peeps, but everyone seems to like them, you see tons of new brands popping up with new varieties to try. I've tried a couple. Some are well worth the 6$ a pint and others you
may as well throw your 6$ in the trash …along with the pint. 🙂
 .
In comes a new brand I haven't heard or saw just yet in the freezer section— Snow Monkey. Of the two varieties I was sent, Goji Berry and Cacao, both are dairy free, gluten free, non GMO, vegan, paleo and have 20 grams of protein per pint at 99 cals a serving.
 .
The Goji Berry says I️t has potassium in I️t, however there's only 140 mg a serving aka 4% of your daily needs to make sure you always read the fine print 🙂 —although I guess that's what I'm here for!
 .
Let's get to the breakdown before the taste.
Goji berry has 99 cals a serving, 2 grams of fat, 17 carbs, 2 g of fiber, 14 grams of sugar—but 0g added sugar— and 5 grams of protein.
 .
Cacao has 99 cals a serving, 3 grams of fat, 16 carbs, 3 g of fiber, 12 grams of sugar—but 4g added sugar— and 5 grams of protein.
 .
Where is this sugar coming from….
BANANAS! Bananas are the first ingredient for both varieties, followed by juice concentrates. I️ definitely like the fact of using fruit as a sweetener and a base—help me add a little extra fruit to my diet in an indulgent way. Hemp protein is main source of protein.
 .
Now for these you have to let them sit for a solid 15-20 minutes before you can even get a scoop out of the container. For real. But remember the base is fruit and not dairy so that's why.
I cheated and used the "soften" feature in my microwave. Because I am a hungry girl and I am impatient. That's why.
 .
NOW THE TASTE!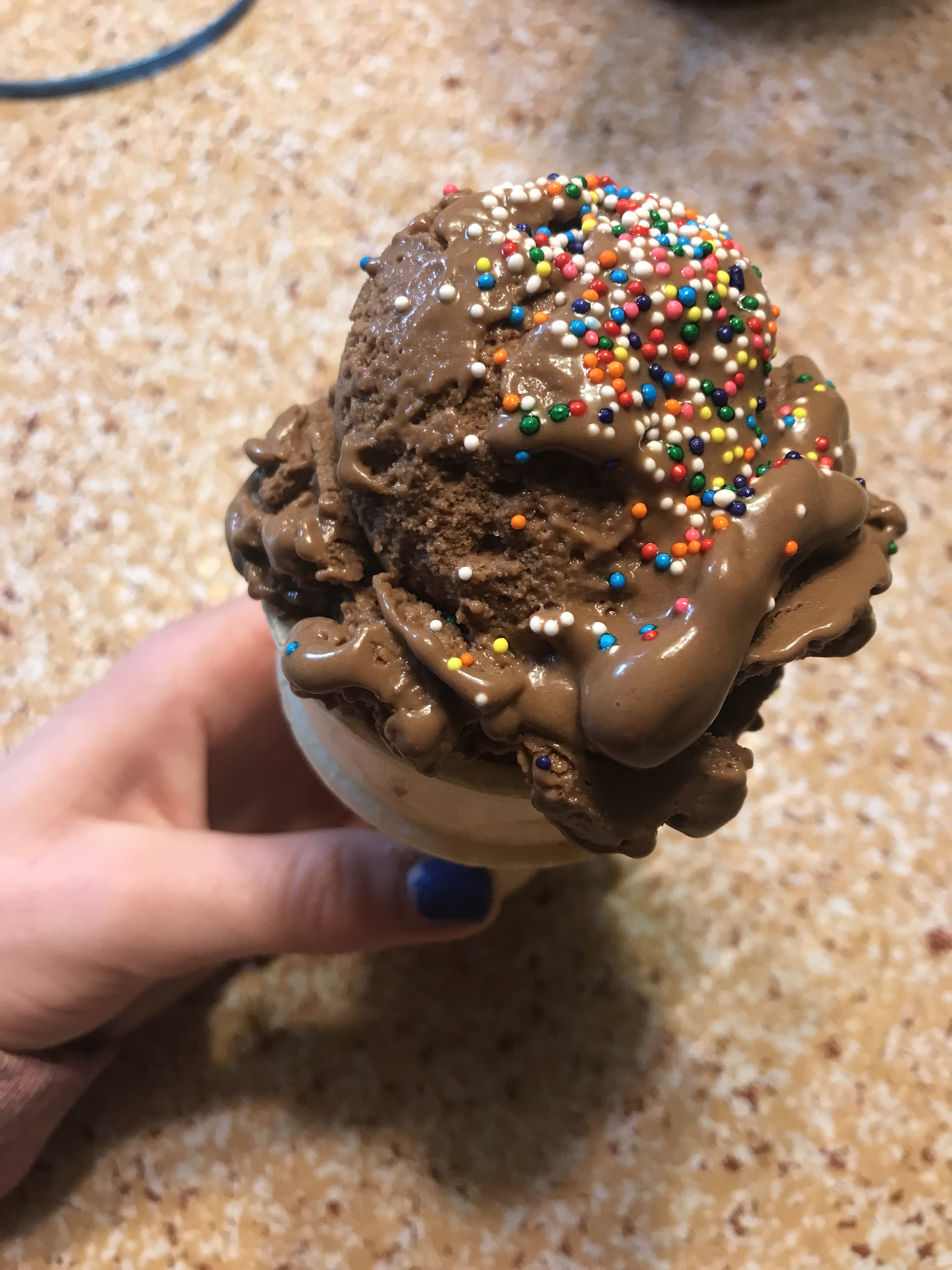 Cacao- is amazing. Literally. Tastes like a chocolate covered banana. Once defrosted, it is smooth and creamy and everything you could want for a frozen dessert, including the fact it has fiber, protein, and the base is a banana. It it sweet but not overpoweringly so. Like this is the type of "dessert" you eat and don't feel like crap about after, because hey, it's actually NOT bad for you! I could also barely taste any protein flavor, so that's always a plus for me. 4.5 stars
 .
Goji Berry- however, this one I was not a fan of. It is just…odd. It has a banana- raspberry-ish flavor, and you can definitely taste the hemp protein, and detect the consistency of the protein powder. I would pass on this one and go straight for the Cacao. 2 stars
 .
Overall, I am a fan. I would like to see what other flavors they come out with. Love how versatile they are, and how they appeal to those who cannot eat dairy!
.
DISCLAIMER: this is an unbiased review. I received these to try for free.