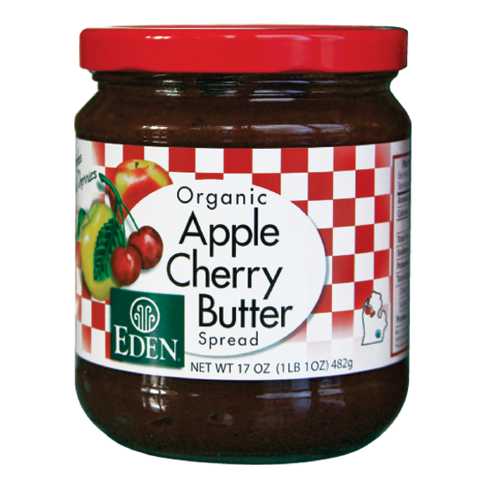 If I had to pick a fruit to eat everyday for the rest of my life, it would definetely be the apple. (strawberries a close second!!) In fact, I consume an "apple" way way or another almost every single day. Most days I have a good ol' Fuji, Braeburn, Gala, etc., but then I also consume a lot of applesauce, apple juice, and apple spreads!
So, I was super excited when Eden sent me their organic apple cherry butter in the mail. I LOVE apple butter. I use it in place of jelly for PB&J sandwiches and spread it on toast. Sometimes I even eat it out of the jar! 😉
Eden's Organic Apple Cherry Butter is literally just apples & tart cherries. The back of the jar says "Certified organic fruit (4 pounds to a jar) from family owned orchards on the Great Lakes' shores. We kettle simmer select apple varieties with a bit of organic apple juice concentrate, then blend in a 30 brix puree of Organic Montmorency Tart Cherries." Wow- 4 pounds of fruit a jar? That's a LOT of fruit!!
So I whipped open the jar and took a look. Brown in color and smooth in consistency, it smelled like apple juice with a hint of cherry. I took a spoonful…. Be prepared to pucker up! This stuff is TART!!  They weren't kiddin gwhen they said they used TART cherries!! And yet, tart as it was, I went back for more! It was sweet and bitter at the same time from the cherries, with apple-y undertones of taste. Not bad! 🙂
Overall, I give it 4 stars. It's actually quite refreshing, and I think it would be great on some buttered toast or mixed in with hot oatmeal. It's also organic and has no added  refined sugar. I don't know if I'll be eating this one directly from the jar, but it certainly is unique and tasty! 🙂
1 tablespoon is 25 calories, 0 grams of fat, 6 carbohydrates, less than 1 gram of fiber, 5 grams of sugar and 0 grams of protein.
Organic Apples, Organic Montmorency Tart Cherry Puree, Organic Apple Juice Concentrate.