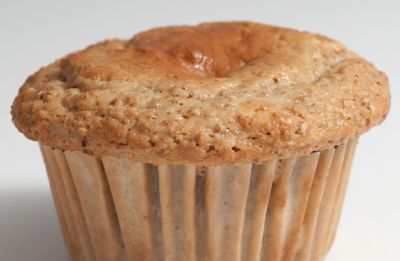 Ah, two of my favorite things, finally combined. Penny's Low Fat Desserts, and Banana muffins. I've had some of Penny's lovely desserts before- like her delicious muffin tops, and her chocolate truffle and cinnamon toffee cookies. So how on EARTH could I turn Penny down when she offered me to try her new Banana Bran muffin? (Obviously I couldn't- then you wouldn't be reading a review! 😉 )
Penny sent me a few of her new, all natural, no sugar added Banana Bran Muffins. Each muffin is only 100 calories and is sweetened naturally with rebiana, or stevia. They are a pretty decent size, 3 ounces, not as big as those super-muffins you get at the deli, but a good sized muffin. I popped it in the microwave for 10 seconds or so since I put them in my fridge( and I reccommend you heat it up for a few seconds when you try it!!), and sat down to review. The smell was awesome-I just knew I was going to like these. I. LOVE. BANANA! 😀
I took a bite, and was actually quite pleased. It's "fudgy" in texture-soft, and fluffy. It's actually sweeter than I imagined it to be, but still good. The banana flavor was good too- no fake banana flavor, but a real " there are actual bananas, not just banana extracts in this muffin" flavor.  It also had a buttery flavor as well. In other words, this muffin was GOOD! I liked that you could see bits of banana actually thoughout the muffin. Yum!
One tip I have- spread peanut butter on this muffin! (taking into consideration you are not allergic to peanut butter. Please, do not do that then!!) Oh my, it was SO amazing with a smear of all natural peanut butter. I'm just mad that I didn't think of spreading peanut butter on it until I was halfway done with the muffin (woops! ).
Overall, this muffin gets 4 1/2 stars. Good job, yet again, Penny! This muffin also has only three grams of sugar and six grams of fiber. Can't be beat in my books 😉
1 muffin is 90 calories, 1.5 grams of fat, 28 carbohydrates, 5 grams of fiber, 10 sugar alcohols, 2 sugars and 4 grams of protein.
water, wheat flour (wheat flour, malted barley flour, niacin, iron, thiamine mononitrate, riboflavin, folic acid), erythritol, pasteurized egg whites, wheat bran, bananas, milk, chicory root, cellulose, natural flavors, leavening (sodium acid pyrophosphate, cornstarch, sodium bicarbonate), rice syrup solids, salt, palm oil, soy lecithin, xanthan gum, sodium alginate, guar gum, rebiana, soybean lecithin.