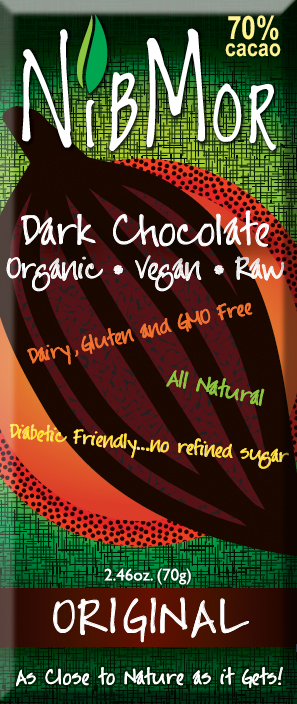 Fan of Dark Chocolate? Then you need to check out Nibmor! They made chocolate that is all natural, gluten free, dairy free, vegan, organic, raw AND has no refined sugar! According to the website, "At NibMor we believe that the food we eat should be as simple as possible. That means using ingredients made by Mother Nature, not someone in a lab coat."
Now that's what I like to see- food at it's finest. If I'm going to eat candy, I want the candy to be PURE!!
Anyway- Nibmor asked if I wanted to try their chocolates, and sent me a Dark Chocolate with Almonds and Dark Chocolate bar. I'm not much of a dark chocolate fan, but these seemed different. They were just so PURE sounding, I couldn't resist! So, I actually was a bit excited to try these, and recruited my mom as well (the chocolate lover of the family) to give them a try.
First off, the texture is so different than any other chocolate bars I've tried. It's SO soft- almost like it's "melted"-but it's not! Like really, I'm used to the types of chocolate where you have to break it and then hear a "snap!", but no snap here! Just smooth, chocolatey goodness.
Original Dark Chocolate- A deep cocoa flavor, with both a slight vanilla and slight "berry" taste. Unique! But good, too! It was silky smooth, and almost "cool" tasting. It didn't have much of a bite to it (like I said before), but was enjoyable. It's very rich, and you don't need more than a square for some satisfaction.
Dark Chocolate with Almonds- smells AWESOME! Again, the texture is great, smooth and silky. It had itty-bitty almond pieces scattered throughout, but other than that, didn't provide much almond flavor. It was pretty much the same as the Original Dark Chocolate bar, but just with the almonds. However, still pretty good!
Overall, I approve! Including i'm not an avid dark chocolate fan, these were actually quite enjoyable. I like that you actually get a decent portion as well without a TON of calories or sugar. I also love that there isn't any refined sugar, and that they are raw, vegan, gluten/dairy free, and according to the package, "As Close to Nature as it Gets!". I'm giving these bars 4 stars– I hope one day they come out with milk chocolate or dark chocolate with peanut butter! Wouldn't that be yummy!
Original Dark Chocolate- 31 1/2 grams is 120 calories, 7 grams of fat (4 saturated), 13 carbohydrates, 2 grams of fiber, 8 grams of sugar, and 1 gram of protein.
Organic Cacao Butter, Organic Agave Nectar, Organic Cacao, Raw Vanilla, Sea Salt, Non-GMO Soy Lecithin (an emulsifier).
Dark Chocolate with Almonds- 31 grams (half of a 2.2 oz bar) is 130 calories, 8 grams of fat (3.5 saturated), 12 grams of carbohydrates, 3 grams of fiber, 7 grams of sugar and 2 grams of protein.
Organic Cacao Butter, Organic Agave Nectar, Organic Cacao, Organic Raw Almonds, Raw Vanilla, Sea Salt, Non-GMO Soy Lecithin (an emulsifier).

Last day to enter the  YOUBAR giveaway!!