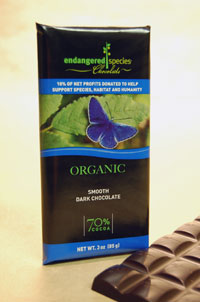 I'm on a chocolate fix tonight- can't you tell? 😉
Another great company, Endangered Species, makes all natural and organic milk and dark chocolate. What I really like about their company is that 10% of their net profits are donated to ,according to the wrapper,  " help support species, habitat and humanity". So I can feel good about my chocolate while I'm eating it (did I mention that this Dark Chocolate bar is organic, too?).
Endangered Species sent me this bar of Organic Dark Chocolate to try, with used Rainforest Alliance Certified Cocoa, and is 70% cocoa. That's some dark chocolate we're talking about here!
I opened up the wrapper (which was so pretty, by the way. There was a pretty blue butterfly on the top- so elegant!) and broke off a piece. The first thing I noticed was how pure and clean it tasted. It was really good. It was a nice change to have something without a chemical or sugar-sweet aftertaste. Just. Good. Chocolate. Wow- perhaps I'm starting to like dark chocolate more than I thought?! The notorious "bitterness" of dark chocolate was there, but not overpowering. It was definietely a chocolate to savor, and to slowly let melt in your mouth.
Overall, I give it 4 stars. The company rocks, and this chocolate is also gluten free, and vegan. If you like dark chocolate, I think you will enjoy this bar!
1 bar is 200 calories, 17 grams of fat (10 saturated), 18 carbohydrates, 4 grams of fiber, 10 grams of sugar and 3 grams of protein.
Organic Dark Chocolate (organic chocolate liquor, organic evaporated cane juice, organic cocoa butter, organic soy lecithin, organic vanilla).
Last day to enter the  YOUBAR giveaway!!