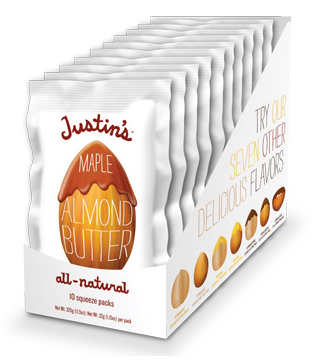 Anyway- I'm sure you have all heard of Justin's Nut Butter here on bloggie world, or perhaps seen their products in stores. I know I was always envious to try it when I saw it on other blogs or on their website- I mean, c'mon, how does chocolate peanut or chocolate hazelnut butter NOT sound good?!
So I was quite pleased when I was sent some squeeze packs of Justin's Maple Almond Butter in the mail from Justin's Nut Butter. Squeeze packs are so conveinent! Why? Well…
1. You don't have to worry about spoons! or knifes to spread the nut butter! Just squeeze and go!
2. A squeeze pack fits better in your purse than a jar does. ( I hope I'm not the only one who has done that 😉 )
3. (most importantly) PORTION CONTROL! I don't know about you, but 2 tablespoons seems like nothing compared to a giant jar of nut buttery goodness. So, if I have a pre-portioned 2 Tbsp in a handy pack, I won't eat more than that (unless… I bring two packs..*oops*)
So, first I kneaded the package as instructed, and opened it at the top. Where did I squirt it? A banana? Bread? An Apple? Nope- right in my mouth (that's how I do things!).
It was really good! Nutty with a nice almond flavor. Smooth and not too thick, or gritty at all. Just a hint of lightly sweetened maple, which added a nice touch. Addictive and I will be using it again. I'm tempted to squeeze all the packs out and put it in a jar for easier and faster enjoyment (but, wouldn't that defeat the purpose of squeeze packs?)
Overall-Very tasty- and although you don't have to refrigerate it, i think I might. Sometimes I like my nut butters to have a bit of chill to them, and a bit more thickness. Nonetheless, you should try this one! It won't disappoint!
Anyone tried any other Justin's flavors? Which ones? I want to know which one's to buy in the future!
1 squeeze pack is 200 calories, 17 grams of fat, 8 carbohydrates, 3 grams of fiber, 3 grams of sugar and 6 grams of protein.
Dry Roasted Almonds, Maple Sugar, Organic Palm Fruit Oil, Sea Salt.