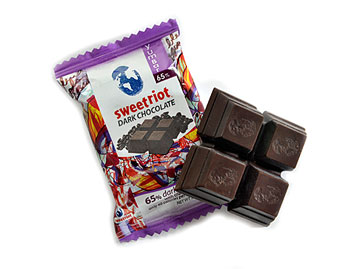 Sweetriot- perhaps you have heard of them,or perhaps not. Either way, they are a company that makes chocolate indulgences in an earth friendly manner. According to the website,
"We are creating a sweet movement to fix the world. 🙂 We've started by sourcing our cacao directly in Latin America, using recyclable, reusable packaging which features emerging artists, and by only using all-natural, healthy ingredients for our dark chocolate 'peaces.' "
Wow- cacao straight from Latin America- cool!
Sweetriot sent me 2 of their products to try- the YumBar 65, which is a dark chocolate bar (65% dark chocolate) with their signature cacao 'peaces' in the bar. They also sent the actual 'peaces' in flavor 65 as well, which is 100% dark caco covered with 65% dark chocolate in  a cute little tin.
Let's start with the YumBar 65. It's gluten free and dairy free, and vegan as well. It's a square bar, with 4 smaller chunks or squares. Each square is about 48 calories, according to the package, and is actually quite thick. A happily broke off a chunk and put it in my mouth. Whew- bitter dark chocolate! Not really sweet at all, but very powerful, deep cocoa flavor. It was kind of cool with the little crunch due to the 'peaces', and was rich. The texture was a hard chocolate, not soft or "melty". The taste kind of reminded me of bittersweet chocolate chips I used to buy when I made homemade chocolate chip cookies- how they would taste bitter before cooked, and then sweet once cooked in the cookies ! ( I never quite understood that..)
Onto the tin of chocolate covered cacao, flavor 65. These are dairy free, gluten free and all natural. They resemble chocolate covered raisins, and they are a TON of them in the tin. The tin, by the way, is really pretty! It has pretty artwork/designs on it, which makes it extra appealing. I popped one of the nibs in my mouth- WOAH again! This is some serious dark chocolate.  While the outside of the nib was smooth, and slightly sweet chocolate, the inside crunchy cacao piece was BITTER! Very crunchy, very strong. If you like love dark chocolate- I would reccommend this flavor!
Overall, while I love the concept of the company and think that the products are great, the dark chocolate just isn't working for me. Too bitter and too strong for my palate- but if you are a dark chocolate lover, I would give these a try. I do like the concept of the company as a whole, and I like the cacao nibs in the conveinent tin. Each 'peace' is only 1-2 calories! How's that for a chocolate fix? But for me, I give the products 3 stars. Perhaps I can see a future with these if they ever invent milk chocolate products- that's more my style 😉
1 YumBar is 190 calories, 14 grams of fat, 19 carbohydrates, 2 grams of fiber, 10 grams of sugar and 3 grams of protein.
Cocoa Mass, Sugar, Cocoa Powder, Cacao Nibs, Cocoa Butter, Soy Lecithin and Natural Flavor.
1 tin of 'peaces' is 140 calories, 12 grams of fat, 13 carbohydrates, 7 grams of sugar and 2 grams of protein.
Cacao mass, sugar, cacao beans, cacao butter, soy lecithin, natural vanilla, glaze. Cacao solids: 65% min.