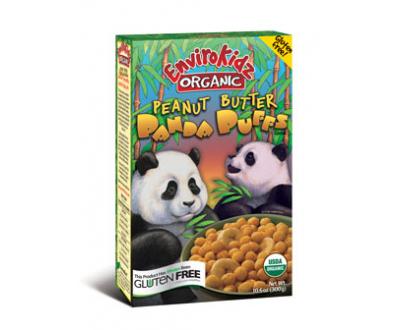 Nature's Path is definitely one of my favorite brands, especially when it comes to delicious cereals or granola bars. I haven't met a product I haven't  liked, and to add to my list of favorites is Nature's Path Envirokidz Organic Peanut Butter Panda Puffs.
Well, seeing as I love peanut butter, I love cereal, and well, I love pandas!, how could I not  love this cereal? 🙂
The people over at Nature's Path generously sent me some products to try, including a box of the Envirokidz Organic Peanut Butter Panda Puffs. This cereal is gluten free, and made with corn meal. Each "puff" is a small little ball, and orange-yellow in color. They are very peanut-buttery, too! Absolutely delicious! I tried a few of them dry, and with milk. They were crunchy, and had a slightly sweet yet salty peanut butter taste. I like how they stayed crunchy for the most part with my milk, and if you let them sit a little bit, they really absorb some of the milk and it creates an almost different experience.
One thing I did notice was that this cereal really "sticks" to your teeth! It reminded me of how when I eat a scoop of peanut butter or a peanut butter sandwich, how the peanut butter sticks to your mouth! However, it did not take away from the overall enjoyment of this cereal.
Overall, this cereal gets 4 stars. It's very tasty, but the only down side is that a serving size is 3/4 of a cup, which is a tad small for me, and 130 calories per serving. It also doesn't have too much fiber or protein, so I don't think it will provide much satiety from hunger for too long. However, it was great with some milk or soy milk and some fruit. On the box they have a picture of a bowl with a sliced banana, which I will admit, was a very good combination. I think I will stick to this cereal as a snacking cereal more than a breakfast cereal, because I preferred the puffs dry over wet. 🙂
1 serving (3/4 cup) is 130 calories, 2.5 grams of fat, 24 carbohydrates, 2 grams of fiber, 7 grams of sugar and 2 grams of protein.
Organic corn meal, organic evaporated cane juice, organic peanut butter, organic soy oil, sea salt, tocopherols (natural vitamin E).