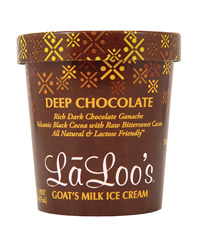 Calling all chocolate icecream fans– you are in for a special treat! 🙂
First off, please dont be discouraged by the words "Goat's Milk"-it makes quite a fantastic icecream! As I was absolutely amazed by the Vanilla Snowflake, I decided to try the Deep Chocolate as well with a coupon provided by LaLoos
I opened up the small container and saw a dark brown, rich ice cream. I scooped some out, and even though it had sat in my freezer for a little while, it was soft as butter. In fact, it was so easy to scoop out with a spoon- I was impressed! I tasted a little bit- wow, this was good! It reminded me of what a dark chocolate icecream would taste like. Rich, sweet, just a teensy hint of that dark chocolate bitterness flavor. It was soft and smooth in texture, almost fluffy like soft serve. It also sort of reminded me of the texture of an ice cream, but the chocolate flavor of a chocolate ice. Delicious!
Overall, I think if you like dark chocolate you would certainly like this icecream! I'm giving it 4 stars, because it's really quite good. In fact, I ate mine right out of the container- for taste testing purposes, of course ; ) It is a bit high in sugar, but I do like that it has 5 grams of protein per serving. Nice!!
1/2 cup is 160 calories, 6 grams of fat, 21 grams of carbohydrates, 2 grams of fiber, 17 grams of sugar and 5 grams of protein.
What's your favorite flavor icecream? I'll always be a fan of strawberry and cookie dough!