I've reviewed some Nonuttin' products here before, and to add to the list will be the Chocolate Chip and Raisin bars.
Here's a picture I took of them below-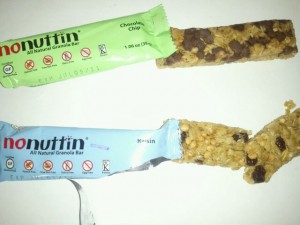 So as you can see, pretty good with the toppings, and rather thin bars. According to the packages, the bars are gluten free, Dairy Free, Egg Free, Tree Nut Free, and Peanut Free. Last time I tried one of these I remember the bar sort of fell apart as I ate it, so I hoped these bars would be better.
I tried the raisin first. The raisins were really tasty- chewy and sweet. This bar didn't fall apart as I had expected and was actualyl quite delicious! It was crunchy and chewy at the same time, and sweet with a good cinnamon flavor. It reminded me of an oatmeal raisin cookie- Yummmy!!
Next up- chocolate chip. This one was also really tasty- sweet, milk chocolate flavor, that was also chewy and crunchy, but not as crunchy as the raisin, and overall really good. Delicious!
Overall, very good products! Sometimes when I get a food product that caters to so many allergies like being dairy free, gluten free, etc. it often has a funny texture or sometimes has an off taste- but these were very good! I would totally eat both of these as a snack, and they are both only 120-130 calories each. Sounds good to me! 4 stars!

Raisin- 1 bar is 120 calories, 4 grams of fat, 20 grams of carbohydrates, 2 grams of fiber, 7 grams of sugar and 2 grams of protein
Chocolate Chip– 1 bar is 130 calories, 5 grams of fat, 19 grams of carbohydrates, 2 grams of fiber, 6 grams of sugar and 2 grams of protein.
Oh, and if you haven't entered the coupon giveaway and you want to, here's a link to do so! : )
I was sent to try these bars for free from Nonuttin'.